Read Time:
9 Minute, 3 Second
In season 1999/00, Michael Bridges scored 19 goals for Leeds United, and the club ran third in the England Premier League and made a European Cup semi-final.
He would form a potent attacking unit with Alan Smith and Socceroos Harry Kewell and Mark Viduka, and was tipped for big things up front for England.
Yet serious injury meant years out of the game. It was a period of depression, drinking and big decisions.
He had a series of stuttering starts with a host of clubs before regaining his love of the game as the hero of third division Carlisle.
Eventually he made his way back into the big show of the EPL (with Hull City) before finishing his career in Australia with A-League clubs Sydney FC and Newcastle Jets.
Today he's a rusted-on Newie Boy, an analyst with Optus, SBS and Channel Nine, and a contributor to a podcast called "The GegenPod".
And he should've listened when Harry mentioned a suburb called Manly…
MATT CLEARY: Where you from, Mike?
MICHAEL BRIDGES: I grew up in a place called Whitley Bay in North Tyneside, Newcastle. I was known as a "sand dancer", not a city boy. My father and I would get the train up to St James's Park; watch Chris Waddle, 'Gazza' [Paul Gascgoine]. Kevin Keegan was manager. I was eight when Waddle left for Tottenham and Spurs became my team. I loved Waddle, wore his mullet. My father was a police officer; he got in contact with a friend in the metropolitan police in London and had a jersey sent up. They weren't readily available as they were now.
Yet you signed for Sunderland, 'the enemy' of Newcastle United? How did that go down?
[Laughs] Not very well! Being from Newcastle and signing with the enemy, as they were known, was a big decision, a tough decision. It affected the family. My father had his car tyres slashed, the windows put out in his car. I had to move house and live in a hostel in Sunderland with 20 other lads. My father was banned from his local pub! [Laughs] They can take it a bit far! There are two teams in the north-east of England. It's religion.
There followed interest from said famous club in London…
When I turned 18 Tottenham put in a five-and-a-half million pound offer for my services. I was on the freeway quick as I could. The sad thing is George Graham had left Leeds to become Tottenham manager – that was worry point number one. He was a, er, colourful character, you could say!
The second issue was the chairman, Alan Sugar. He arrived in our meeting and first thing he said is: 'I've got thirty seconds with you. I don't know who you are, I've never heard of you. I'm putting a lot of money in because of these guys sitting here today. You're not getting the money your agent wants. You'll have to earn that. Good luck. I've got bigger and better things to deal with today. See you later.'
What did you do?
I absolutely shit myself. And I turned my back on the club. Got out of there. Got straight back on the motorway.
How'd you feel?
Terribly deflated. We'd headed down the road with such high hopes – I was18, it was my childhood team – and we were pretty much back on the motorway with nothing. But an hour into the trip my agent got a call from Leeds United. David O'Leary was manager. So we stopped off on the way. We had a look around. Met a 19-year-old Aussie kid called Harry Kewell. The chairman Peter Ridsdale was so welcoming. He shook my hand, invited me to the club. And it felt fantastic. I thought it had been a terrible decision to turn my back on Spurs. But first season I scored 19 goals, we finished third in premier division and played a European Cup semi-final [against Galatasaray].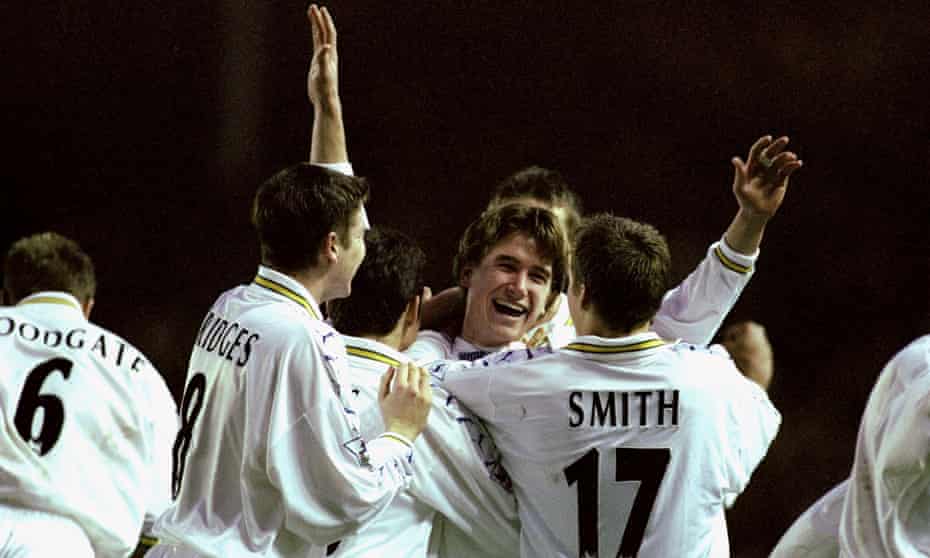 Soon enough they signed another Aussie – and striker – Mark Viduka…
It made competition for spots harder again. It was great, though, playing alongside him, along with Alan Smith and Harry. We were on rotation for the striker's position, so it kept you on our toes.
And then you banged up your leg?
In a Champions League game against [Turkish club] Beşiktaş I had a collision with one of their players which looked so innocuous. It was barely a challenge; we were both just chasing the ball. And I snapped my leg. Dislocated the tibia and fibula, snapped three ligaments. I was told I would never play football again.
Shit.
That's what I said, among other things.
Grey day indeed: Michael Bridges is stretchered off in a Champions League match against Turkish club Besiktas. They said he'd never play again. Pic: Leeds Express
You did play again, though.
There was a huge insurance payout on the table that I was going to take, millions of pounds. But our physio, Dave Hancock, who's now with New York Knicks, he said, 'You might not play in the top level again but you can still have 15 years in football. You mightn't have the pace again but you'll always have the brain. Don't take the money.' And I'm delighted I took his advice because I played until I was 36.
As a striker? Or did you have to switch to centre-back or something?
Still at the top end where the goals are. It was more about bringing people into the game. A lot of players have done it. Alan Shearer, Teddy Sheringham. Michael Owen [whom Bridges played England U/18 with] wasn't blessed with a footballer's brain. He had great pace. But when his hamstrings went he retired straight away.
So you took Mr Hancock's advice and no doubt got to know him on the physio table.
It was 15 months before I played again. It was very hard to recover from. But I did, and got back to playing. In a game against Malaga in EUFA Cup I ruptured my Achilles. Hardest thing then was getting through the depression. I wish I'd looked after myself better. I had a shit diet and was drinking a bit. I was lucky I had friends and family around. But that was the lowest point, certainly.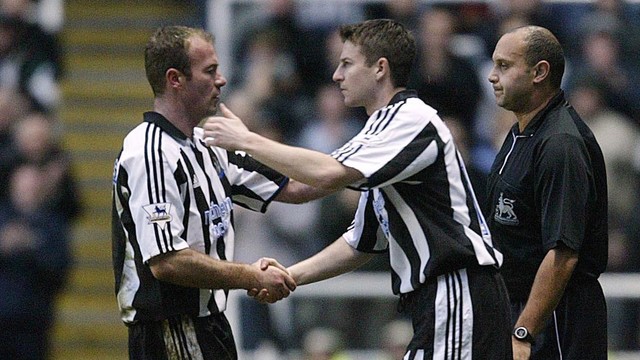 So looking through your Wikipedia page, you go from Leeds to Newcastle United to "Unsettled" – stints with Bolton and Bristol – then to Carlisle United in League Two, the old third division, where it says you became "perhaps their most influential player in their successful promotion charge into League One."
It took three years to find a club in Carlisle United where I was playing and scoring goals. Aged 27 I discovered a love of the game again. I was scoring goals and loving it. Loved the people. And when you're enjoying your football you're playing well. Hull City wanted me back in the championship and I jumped back up three divisions.
You've remained good mates with Harry Kewell.
Harry was my next-door-neighbour at Leeds. He was the brother I never had. Back in '99 he was suggesting that I invest money in property in Sydney, in somewhere called "Manly". The pound was three-to-one. And I told him – because aged 20 I obviously knew better – what the hell would I want to do that for? [Laughs] I don't like to think what those houses might be worth now.
You bought into the Aussie market eventually – you emigrated.
I wasn't getting a game with Hull City. I'd missed so much time through injury the last thing I wanted to do was sit around and collect the money. I was happy to go out on loan. A club called Sydney FC came knocking. The manager was a guy called John Kosmina. But I knew nothing about the league and once I would have said no chance.
But I remembered Dwight Yorke had been there the year before, we had the same agent. I gave him a ring. And Dwight was so enthusiastic. He said you'll play good football, you'll enjoy the environment. And with your injuries, you won't have to warm up in the morning! Arthritis in joints? No worries! He said it was a fantastic city and culture. They work hard and play hard.
I thought right – I'll go for it. Juninho was the marquee payer and I had a really good six months. But being on loan, I had to leave in January before the finals. I knew I wanted to go back. Year and a half later I'm with Newcastle Jets.
There's obviously plenty of positives to the Newcastle lifestyle – you're still there after several years, for one. You play golf, talk about football in the media. Even hang out with old boy Knights in a training team called the Wolf Pack. But wouldn't be all rosey? What challenges have there been?
I'm a big believer in fate and things happening for a reason. So you take a chance, you work hard to make it worthwhile. It's something I've always done – have a look at the pros, cons, weigh up the risk element and take a calculated one. Then go for it.
But to uproot your family, travel around the world, it's a massive move. I wasn't doing it on the flick of a coin. You're talking your children's future. It was hard the first few years, the kids away from relatives. I lost my father two years ago and you do realise you're so far away. Terrible time. You wonder, have you made the right decision. Crack analyst: Micky B does Optus talking head. Pic: Optus Sport
But talking to him, other family members didn't have opportunities like this. My wife had a touch of homesickness early on but five years in I asked if she wanted to go back, she said are you mad? So I've no regrets at all.
Actually, I've one: telling people where I live! Giving my phone number out, it's amazing how many mates come to visit! They want to come on holiday while you're meant to be working. What we doing today? Going fishing?