Cam Douglas played a hundred games for the Marlins from 1985 and has picked a cracking Best XXII team-mates from his 12 seasons at Manly Oval. It's a side bristling with Wallabies and Waratahs, cult heroes and characters. And controversy, given the selection of a zero-game league player over a club legend
Cameron Douglas came from Cowra in the early 80s and played for the Australian Schoolboys before deciding – while admiring the scenery from the Round Bar of The Steyne Hotel – that Manly RFC would be his home.
Shunning Colts, the big lump of a No.8 went straight into first grade and banged heads alongside legendary skipper Fred Whiteman. Douglas would go on to play over a hundred games for Manly, the vast majority in first grade. He also played for NSW, Gordon and Balmain Tigers.
Today he's President of Manly, and over a few quiet beers – not coincidentally in said bar of said hotel – came up with the following Best XXII with whom he played in red and blue.
1. Fred Whiteman – Great captain and leader, and my first captain at Manly. On the field he was hard-hitting, no-nonsense. Great to play with. Off the field, for a young bloke new to the club he was bit of a father figure. I'd go over for dinner with he and his wife. My first club social event was his buck's party. It wasn't long after a trial against Randwick. It was at an, um, "establishment" that a former first grade coach owned. He owned a few of these "establishments". I was dragged along by Steve Williams to get a couple of cartons. I'm 18-years-old from Cowra, walking up Oxford St. It was an eye-opener. Last time I bumped into him he was refereeing in the Illawarra.
2. Rod Crerar – Toughest pound-for-pound player I played with. Always in the middle of the action, he revelled in the tight stuff. He seemed to enjoy bashing about in the hardest, darkest parts of the field. He got called up for a Wallabies tour though he was only little. He was just unbelievably hard. Just tough. He'd vomit before games, how nervous he'd get. He smoked bungers like you wouldn't believe.
3. Scott Gray-Spencer – One of the great characters. Larger than life. His playing weight would've been 125 kilos. Had this big red moustache. Toured with him to the Hong Kong 10s once, and he was just a lad. Great fun. He made a pile in commercial real estate and did a lot for getting new blokes into work.
4. Steve Williams – The original lock's lock. I was very fortunate when I came to the club that there were guys like Steve, and his mate below, who were former or current Wallabies. I learned a lot from these guys. Steve was a big, hard-working lineout winner. He wasn't an "enforcer" or anything like that. He just tackled hard, ran hard. He kept it simple – and he was bloody effective.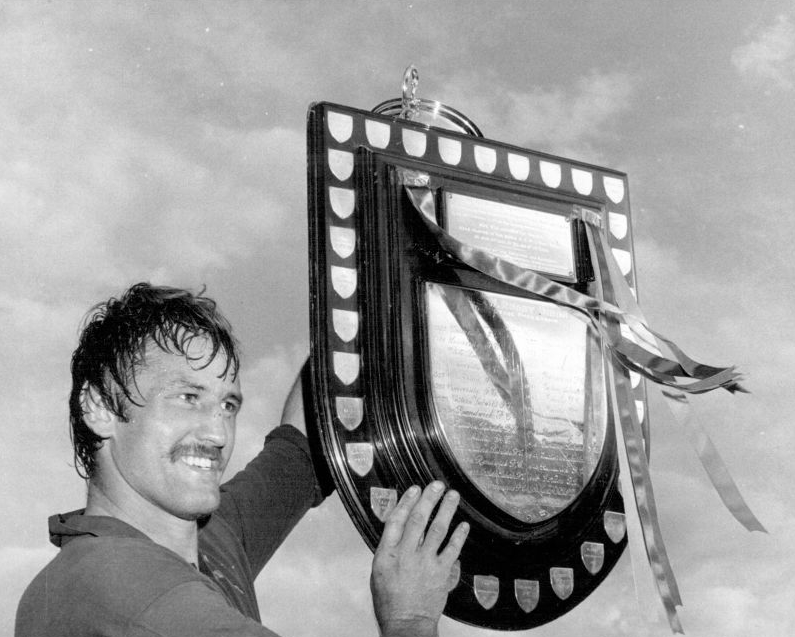 5. Ross Reynolds – Incredibly talented and mobile for a big man. Great ball skills, great offload that he could pull off in any circumstance because he was big and strong. Neither Ross nor Steve were as "wild" or "feared" as the Warringah pack from the same period. But they more than held their own. Ross was unfortunate to be continually picked him on the bench for Australia. Those days they had four reserves, two forwards, two backs, who only came on in case of injury. Because he could play lock or backrow they kept picking him as a utility. He came from Cumnock. Today he's coaching at Mosman Whales.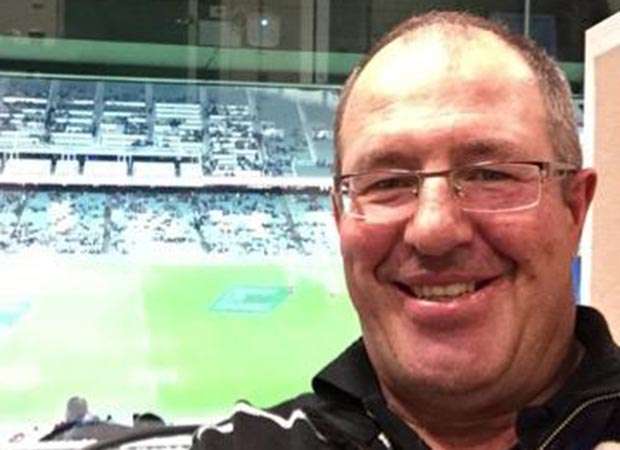 6. Ben Kennedy – Intensely competitive and combative. BK would just throw himself around the field. When he first turned up he wasn't as big as he became. He was tall but he was pretty lean. And people were worried he'd hurt himself. He was a wild, loose unit. And a great bloke to have on your team – for entertainment value as much as anything!

7. Gary Palmer – Hated training almost as much as five-eighths. You didn't see him pre-season, he'd just turn up for the first trial game and kill 'em. He was hard, and naturally sort of fit. Though he didn't look it. Had a big body but he was pretty normal looking, really. But on the field, off the back of the scrum or lineout he absolutely terrorised No.10s. He wasn't an "on ball" openside breakaway – we usually played flankers as left and right side of the scrum. But when he got there he was in the thick of it. He certainly wasn't scared of anything. If he'd trained he could've been anything. Also an elite level boat-racer.
8. Willie Ofahengaue – Talk about terror! Willie O was an absolute beast of a rugby player. I'd put him up with Buck Shelford. In fact I put him beyond Buck. Willie O is the best No.8 I played with or against. He was a bit lazy as a young bloke but once he got Test match fit he was unbelievable. I called him the "Master Blaster". He was just a dominant force of nature at the back of the scrum. He could hit like a 4WD. Crowd favourite and a cult hero. Didn't say much – didn't have to!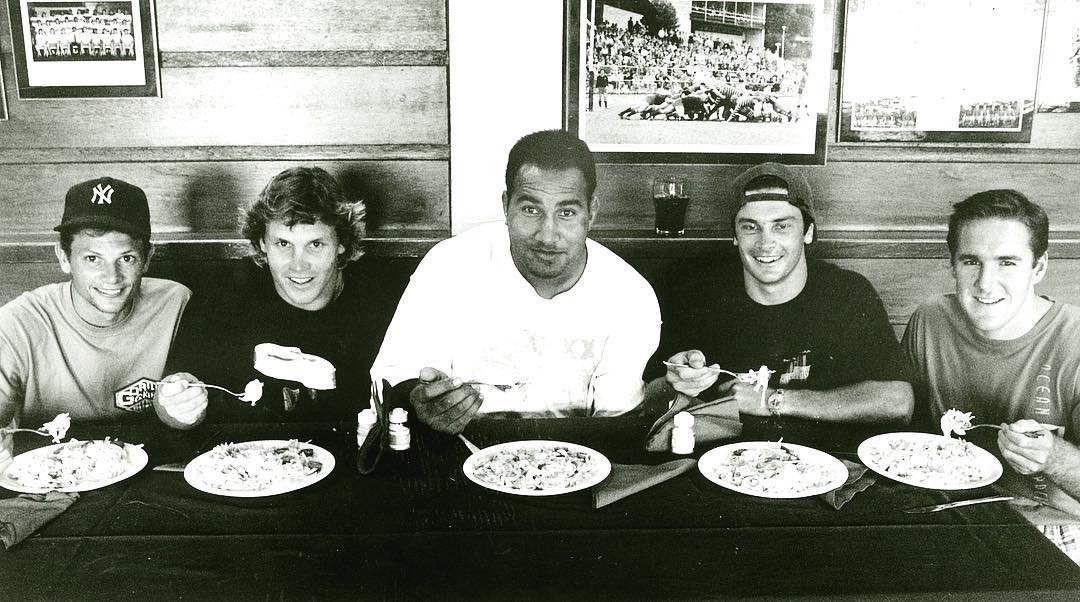 9. Ricky Stuart – Lot of people don't know but I recruited Ricky to Manly after the Wallabies tour of Argentina in 1988. He did a pre-season with us. But I went away for a 21st in the bush, got back and found a message on my machine to call him. Seems the leaguies had heard how good he was going and Canberra had signed him. Now, it would take a bloody good player to knock Phil Cox out of this starting XV. But Ricky is that player. Simply, he makes the team because he was the best, most skilful and competitive bloke I ever played with. And a great bloke. He'll still drop in for a beer at the Round Bar or drop by Village Green when the Raiders play up here.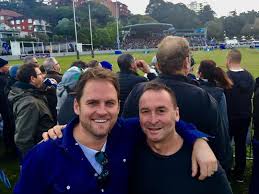 10. Dave Niu – I met David through rep rugby and managed to recruit he and his brother Mark when Port Hacking and St George merged to form Southern Districts in 1989. And both lads were like a duck to water. David had silky smooth skills and controlled the game to a tee. His tactical kicking was outstanding. He was very good runner, too. Went well in league. His skills hark back to his Fijian heritage. I know he is very proud of it. In fact his two boys, Noah and Selby, go by their full Fijian surname these days, Niumataiwalu. We'll hopefully be seeing the boys play for us this year. They're coming out from Philadelphia where David's living. He has plenty to do with league and union in the US.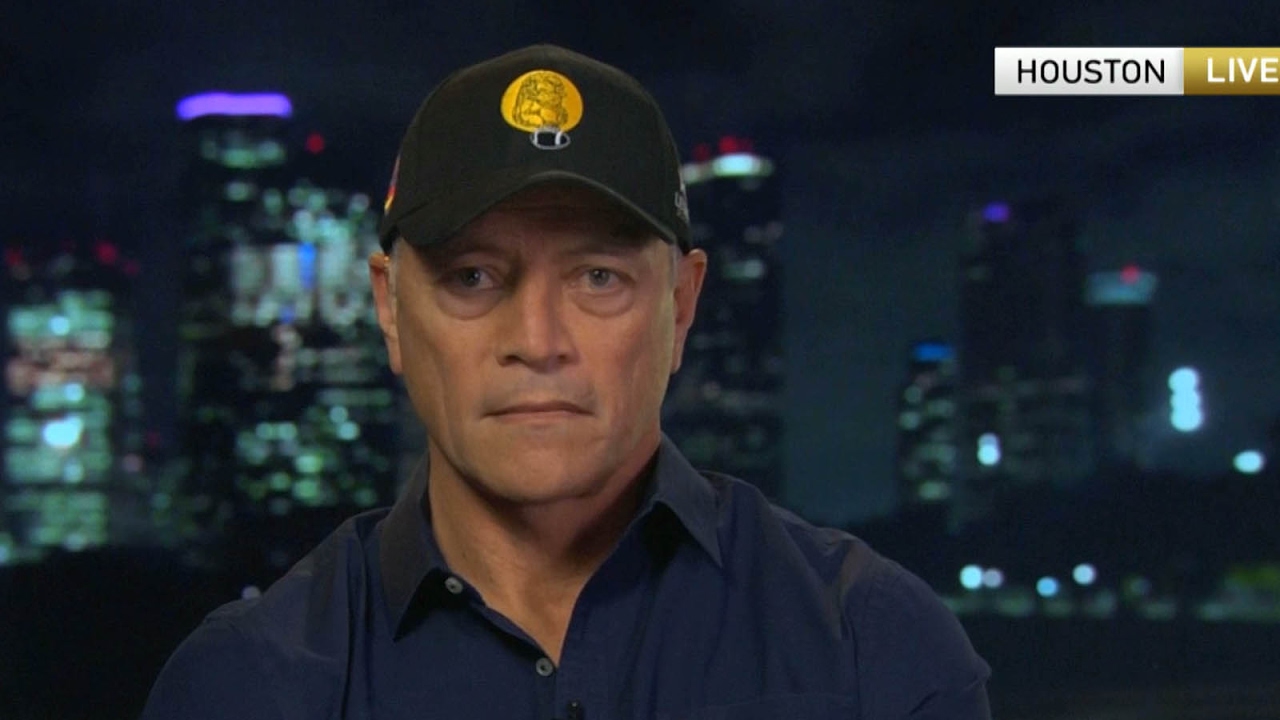 11. Kev Reber – His great quote was: "There's quick and there's scared-quick. Scared-quick is faster!" And he was lightning. Famous for never getting his jersey dirty. He never made tackles. He largely avoided getting tackled. He saved a lot on laundry. I flatted with him when I first came to town and he never really applied himself. He was a party boy, played thirds and fourths. And then one season he got stuck in and ended up playing a hundred first grade games. He kept fit. He'd get call-ups to play for the Classic Wallabies. He was a very good beach sprinter and was still doing relays for Queenscliff Surf Club long after he retired.
12. Clive Woodward – A quality five-eighth or No.12. Knew when to run, pass. He was the clever midfield general – though today he's a knight! Just a very smart player, which he obviously parlayed into a successful coaching career. He'd toured with the Lions and played 20 Tests for England when he came to us in 1986. His first game for Manly was a trial against Warringah. Steve Lidbury got him with the biggest swinging arm you've ever seen and broke his jaw. Clive did not think that was very proper at all! Particularly not in a friendly. Clive didn't know Rats and Marlins don't play friendlies. Remember the club put him up in a flash joint near the water but he asked to be moved because the waves crashing on the shore kept him awake.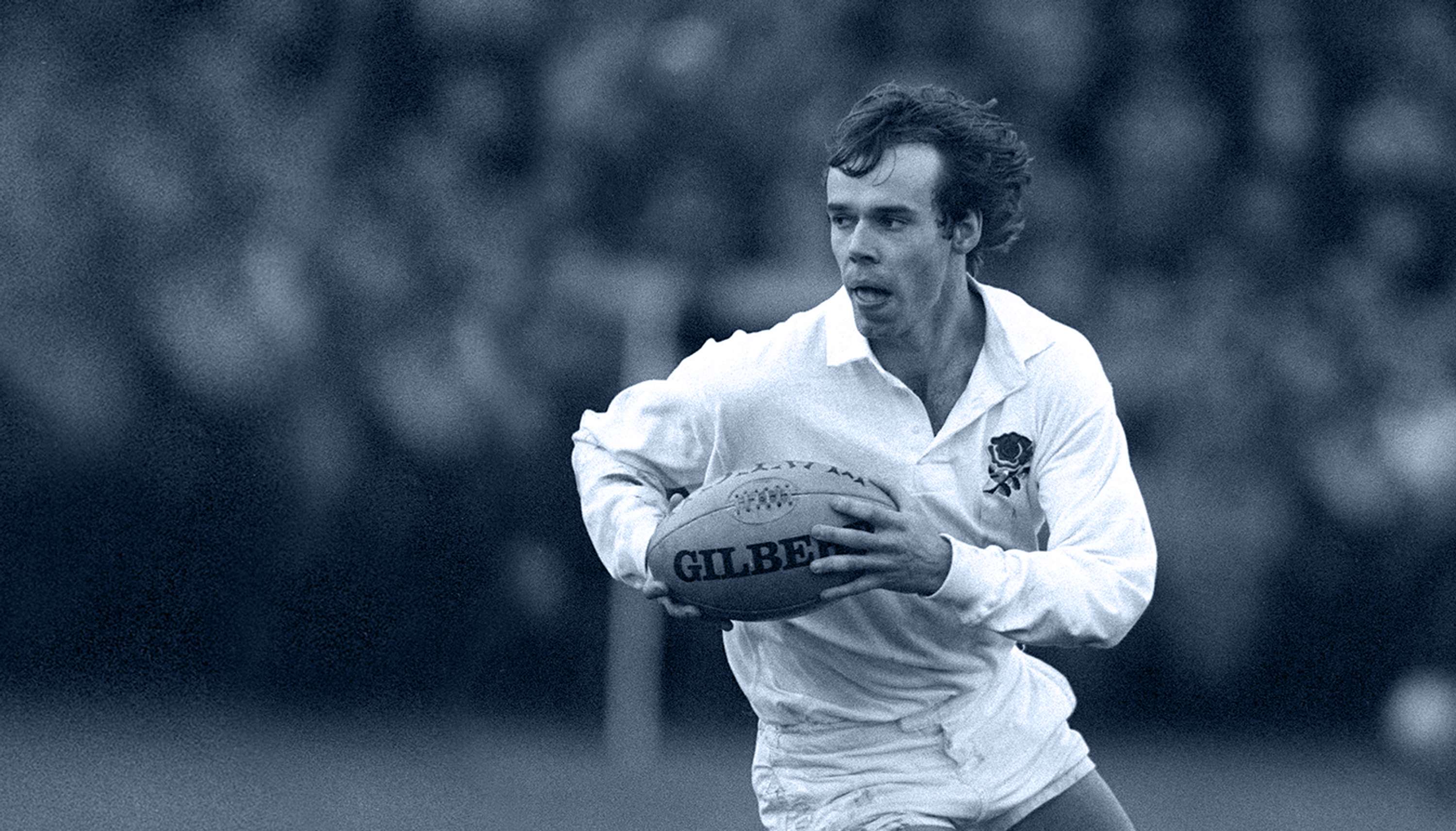 13. Steve Malone – Only knew one way, hard and straight. In 1980 Scobie (named after a detective from an Aussie movie called Scobie Malone) played in a losing Colts grand final against Uni, a team which had Peter FitzSimons, Nick Farr-Jones, few others. He grew up in Dee Why and attended North Sydney Boys. He went into grade in '81 and quickly established himself as a dominant, hard-running centre in the 1st grade comp. He was renowned for having terrible hamstrings. No matter how much he stretched he had problems with them tearing. If not for that he probably would have gone on to be a great rep player.
14. Steve Holdstock – Steve was another Pom who played for us in '86 with Clive. They were mates, played at Leicester. Steve had less credentials than Clive – he'd toured with England – but he was probably more successful. He was a dynamic right winger, built like a prop. He loved running over people. One game he scored 4 tries off the same scrum move. I'd take it off the back, dish to Phillip Cox who'd switch inside to Steve. And he ran over them four times. Flankers couldn't stop him. Great bloke and character. He comes out for a month each year, his daughters live here. That's him second from left below with Phil Cox, Clive Woodward and Michael's dad Dave Hooper.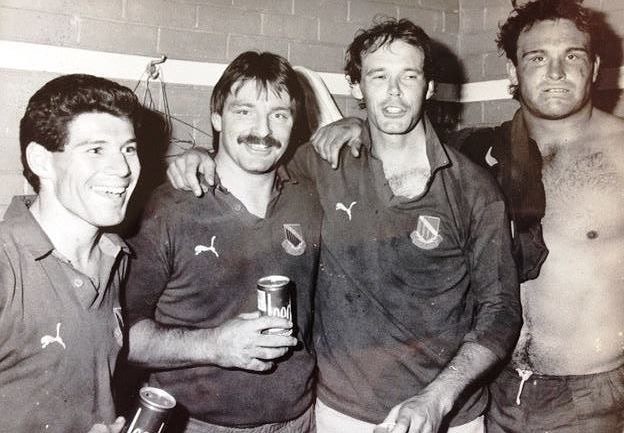 15. Matthew Skene – Super slick – on and off field. A super tourist. Local junior and surfie kid, he had long hair and a booming kick. Also an explosive runner. He played for Warringah, and for Manly and North Sydney Bears in league. Remember he broke his leg at North Head, it sounded like a tree trunk breaking. He played in Italy a bit. Very talented footballer.
16. Ollie Hall – Hard old bushie who never took a backward step. Came from Scone and played for Australia. He was a big blonde bloke. He was actually in Mad Max III with Tina Turner. He and a bunch of blokes were recruited from the Steyne Hotel. Today he's back in Scone and doing it tough with cancer, I'm told. Absolutely great bloke. A classic, laconic bushie.
17. David Reen – The first real on-baller I ever played with. Dominated the ball at the breakdown. We called him the Mad Professor. He was eccentric, intelligent. And he'd get his head over the ball and get beaten up. And he wasn't pretty to start with. But he was the first bloke I played with skilled at targeting the ball, winning it or slowing it down or winning penalties.
18. Rob Gallacher – Big, quick and skilful. Captained the club to our last first grade premiership in '97. Scored a try in the grand final. Best dummy you've ever seen – he always believed he could score! Wasn't wrong a lot of the time. He captained Australia U/21s. Talented local junior who's now general manager of the club. Manly through and through.
19. Dan Vickers – Porno was only a smidgen behind Matt Skene on all fronts. Great kicker of the footy. He was a fullback from the Central Coast. He was riding his pushbike to the team photo in 1997 and ws cleaned up by a car and broke his wrist, and missed the game. He was very fit and didn't have any hair, and women loved him. He went over to Saracens as a physio and ended up their attack coach.
20. Phil Cox – I may get a bit of grief for leaving him out of the starting side in favour of Ricky. Because Phil is Manly royalty and undeniably a great of Manly rugby. Tough as nails. Classic cover defender, he could take down anyone around the ankles. He played for Australia on the '84 Grand Slam tour. In the pic below he's with me (far left) and members of the board in which we're schmoozing sponsors from Carlton United Breweries. The bloke in the hairy jumper at the front is an aspiring young journalist called Adam Lucius.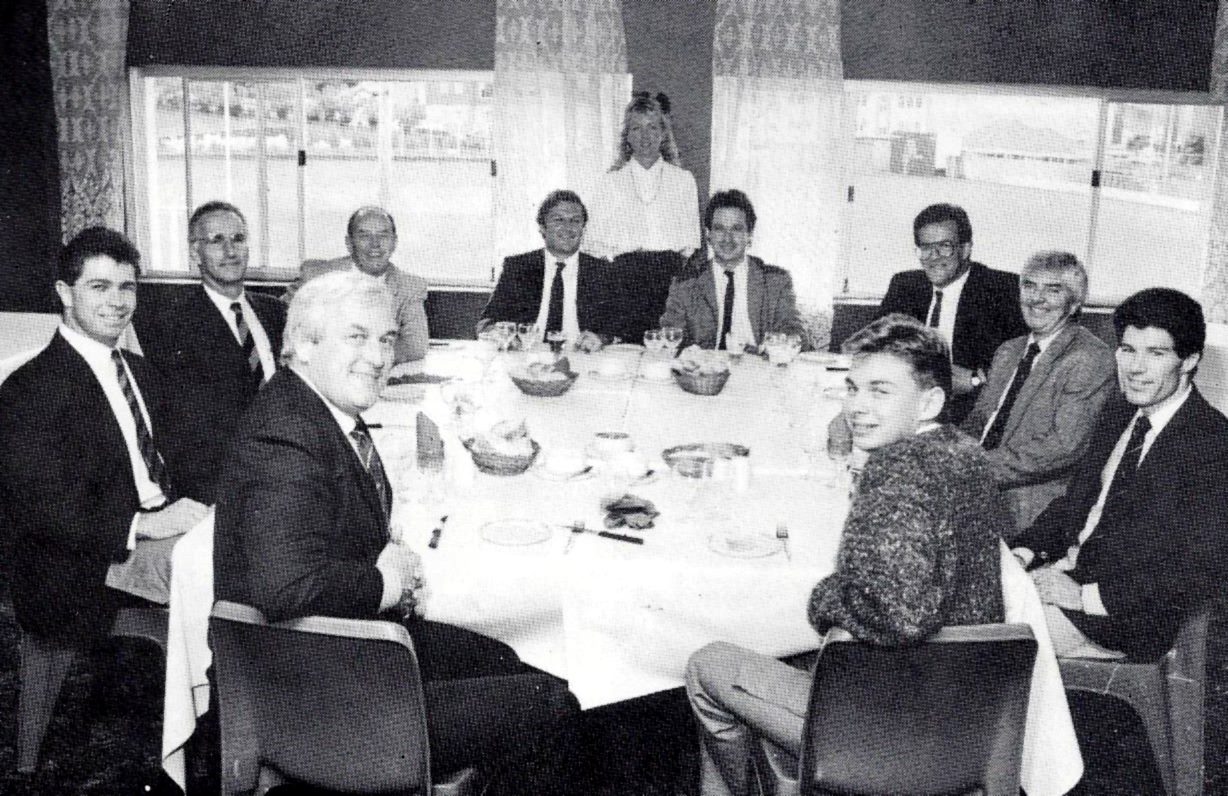 21. Sean Flanagan – He never knew how good he could be. He was a year or two above me at Joey's and set the GPS record for the 100m. Great build, great athleticism. He was so fast. He played U/21s for Australia but never kicked on. He was just his own man, Sean. Chilled. Great fun to be around. And a funny bloke, by which I mean humorous. In fact today he's telling gags on the radio on the Gold Coast.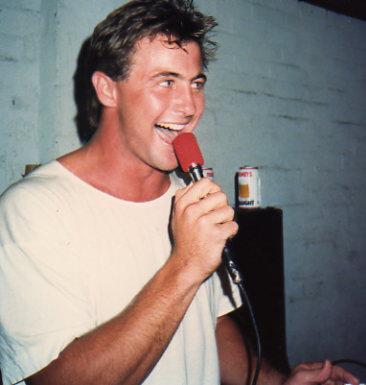 22. James Black – Played the game super smart every time he took the field. Very good footy brain. Never flustered. One of those blokes who under pressure seem to have time. Kicking, passing – almost seemed to float.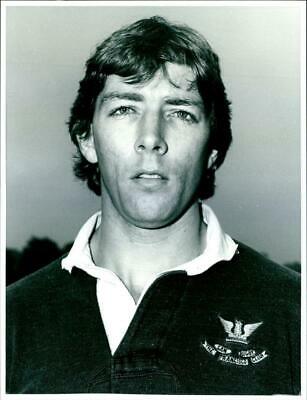 Coach: Joe Rota – South African-Italian who was a lovely bloke and taught me a lot. He emigrated from South Africa. He'd played for the Blue Bulls until he was 40, which meant he was very tough. He was a thinker. He'd pal blokes up with older blokes they could learn from. Manly's got a terrible history of punting "outsiders" if they don't perform and ultimately Joe succumbed to that. But he was a really lovely fellah and his sons emigrated also, and one played for Manly.
Clubman: Thomas Dooner – Played across the grades with a fair bit of first grade. Always up for a cold beer with the boys, and if there was a punt involved, all the better.
Tourist: Matt Skene – The most consistent tourist I ever saw, and one of the great wingmen. Unbelievable at attracting female company. When he went to league they'd never seen anything like him. Blonde hair, surfie-looking bloke. He was colourful. He ran a model search agency and is famous for knocking back a young cheerleader from the Hunter Valley. Her name was Jennifer Hawkins.