Read Time:
10 Minute, 40 Second
Some years ago, certain burghers within Northern Beaches Council rubbed their hands together, laughed maniacally and declared: we must destroy Warringah Golf Club!
Or words to that effect.
Bottom line: these devils wanted to turn the parcel of land between North Manly and Allambie Heights into "community space", and soccer and touch footy fields, and locals feared for the 80-year-old course that hosted 65,000 rounds of golf each year.
So the members fought the good fight and found a white knight – Warringah Mayor Michael Regan who declared that council's dispute with Warringah Golf Club was "unnecessary" and "caused the club members and the wider community a great deal of angst."
In campaign-mode to be Mayor of all these Northern Beaches, Mr Regan said: "My personal feeling has always been that the golf course site is not suitable for increased usage. It should be left as is."
And so it came to pass. Three councils merged and Regan became Northern Beaches Mayor. And, as promised, Warringah GC stayed Warringah GC. The members signed a 20-year lease. And today the little club that could continues to host legions of happy hackers, flagellating themselves and their bright yellow Hot Dots around the Melaleuca-lined corridors.
And most everyone, certainly in golf, agreed: top stuff, WGC, for it may have been us, don't you know there's a War On Golf for space.
Yet Warringah GC, for mine, along with Council and even all those dear sweet property developers missed a trick. For Warringah the golf course could've been something really good, had all parties bought in.
Not for use as a car park or units, mind, not all of it anyway. Because there's already a car park from Warringah Mall to the top of Dee Why Junction, and it's called Pittwater Road, and anyone who wants to build something that squeezes more people in without improving ways to get them around should be strapped into a Tarago full of 5-year-olds and driven from North Manly to North Narrabeen and back every Saturday morning for one footy season, and hear them out-howl the children for "Wadda we want?! Public transport infrastructure! Whennu we wan' It!?" and so on.
Yet if council wanted green space, and developers wanted units, and Warringah GC wanted to stay Warringah GC, why couldn't they get together and agree, all round, that less is more?
Hear me out.
Firstly, for mine, Warringah GC … and this will be controversial … but … well, it's sort of true … but Warringah is … sorry … I'll regret this … but … it's a pretty ordinary golf course.
I know! Sorry, locals. As a club it's a ripper. It's great for old boys and kids and beginners, and it's flat and fun, and cheap and cheerful, and the pro in the shop, Rob Richards, is known up and down the land as the best and most personable golf professional from Manly to Palm Beach.
But it's an ordinary course.
I know! Sorry! Yes! People love the joint, and it hosts 65,000 rounds a year, and I have played many of those rounds, and they are always fun and there's little more enjoyable than sitting in a cart with a tinny on a golf day at Warringah GC.
But it's still, you know, a dud course.
Club? Magnificent! A community gift if not icon. It's not an icon. But it's still grouse, a term the old boys still use as they sup their ice-cold Resch's from frosted middie glasses. Father-in-law Viv is one of them, and I get the odd invite to Invitational Days that might dry up now, granted, but I hope not because Warringah Golf Club, the one of the people, that takes in the tradies who can no longer neck schooners at North Manly Bowlo is a cracking place and they don't need Men's Sheds to keep old blokes connected, they can just have the front bar at Warringah GC.
And long may it be, wherever they put the front bar (they reckon the clubhouse is worth$5 million), I'd have thought said derelict North Manly Bowlo would've made sense, and they could've re-routed the course to make the 13th hole the first, but apparently the new club's going over near the tennis court, one assumes it makes sense.
But as I said: the golf course, from a golf architecture purist's eye, is like playing in one of those hedge mazes in England. It's like playing golf in Aisle Three at Woollies. And Warringah could lose 90 per cent of the trees and six or nine of the holes and been, you know, really good.
Because less is more. And we can learn from the past. And a few other bits of pith like that.
Now – this mightn't ever happen but I reckon it'd be good if it did … but Warringah GC and council and developers should get a plan together to remove 90 per cent of the trees, and six or nine of the holes, and put a few units and an underground carpark that connects to Warringah Mall and the B1 bus, and a synthetic field or two, and build a really good golf course on what's left.
Put the community space and soccer fields on the rest. Build underground carparks and units with easy access to Warringah Mall and the big yellow B1.
And make Warringah GC really, really good.
Because less is more.
The infrastructure. transport and community green space stuff you can read about in any number of council briefings with sub-section this-and-that pursuant to article 5.Z of the constitution, and on and on until you're dead.
For this piece I'll stick to golf, and wonder why more clubs and councils wouldn't sell off chunks of land to developers and use the profit to create really good 9- or 12-hole courses?
Why wouldn't council and the good people of Warringah GC have sold some of the land to developers who'd create units and car parks and soccer fields for the kids?
And on the rest of their smaller but still highly-valuable parcel of land Warringah could have sculpted a 9- or 12-hole course that would be so much better than the one they have. Have different tees. Play three loops of six.
Whatever – the land is too small to hold 18 holes. Particularly with all those bloody trees.
Enter Golf Australia architecture expert, pro golfer and Golf Media Association Quill award-winning columnist Mike Clayton (above) who declares that Australia is full of golf courses that developers have done too much on with too little.
"There are courses full of holes and the golf is compromised because they were trying to jam 18 holes into a bit of land where it shouldn't fit," says Clayton. "North of Sydney is classic for it. There are courses up that way which would have been great 14-hole courses, or 12-hole, or 9-."
I asked Clayton how many clubs, councils and/or developers had come to his golf course design company and asked for either a new 9-hole course or to shorten and improve their existing one, and he said there had been none.
"I don't know whether people don't think of it as legitimate, or the operators don't see them as financially viable to sell green fees and memberships," says Clayton. "But there are some great 9-hole courses in the world.
"The Dunes Club in Michigan and Newmarket in England are fantastic. There aren't many good ones in Australia though little Frankston is really good."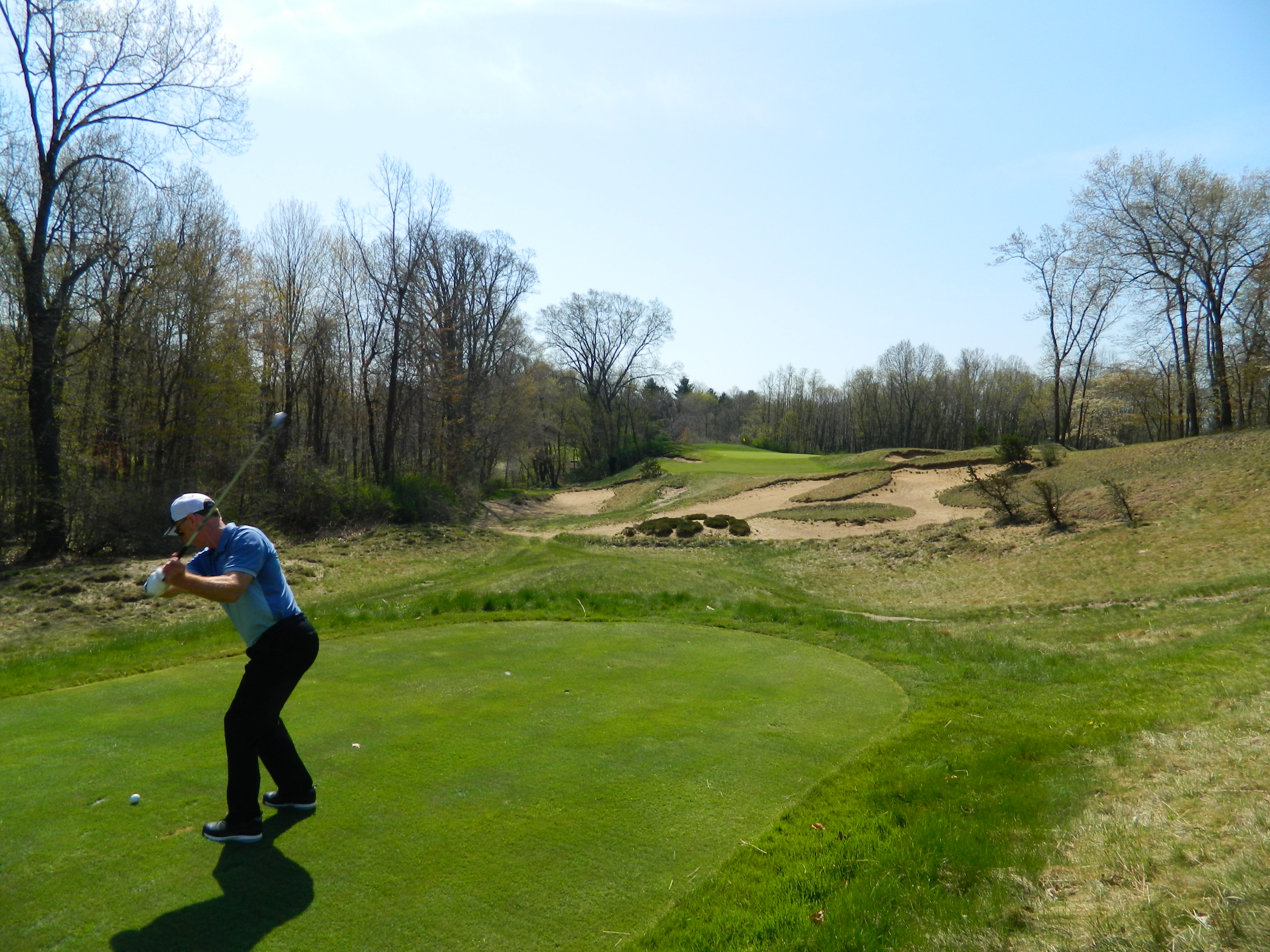 Clayton was in a town-hall-style meeting with the membership of Sandringham Golf Club selling the idea of turning their course into a 12-holer plus a six-hole par-3.
"And no-one wanted to know," he says. "At one of the meetings, one of the members asked me, quite defensively, is there any precedent for 12-hole golf courses? I said, 'Yeah, at the first Open Championship, Prestwick was a 12 hole course'."
Why don't developers build more 9- or 12-hole courses? Why don't clubs and councils sell up land and convert ordinary 18-hole golf courses into outstanding "short" ones?
Why don't golf clubs and the greater authorities market short-form golf as convenient, cost-effective and fun? Even positive for mental health! Play that card. RUOK? You bet! I'm playing golf!
Nine-hole memberships are, apparently, a subject oft-discussed by golf club general managers and others in the industry.
"It's on a club-by-club basis," says one GM. "And there are a range of considerations. Is there a time available to suit this membership? Would you lose higher-costing membership to the new category? Will it attract new members? Which nine do you play or do you alternate each week?"
Clayton asks why if people are worried about how long golf takes, why they wouldn't play fewer holes. He reckons it's because Australians are "obsessed" with competition golf over 18 holes.
"Why can't you go to the golf club on Saturday morning and play nine holes? Why can't you wander out and tee off the 7th, play 12 holes?"
Club members complaining about it, would be my tip. Inflexible green fee offerings would be another. No-one thinking outside the square and marketing short-form golf to members, potential members, or the walk-in-off-the-street social round player could be a third reason, among others.
Golf club memberships are expensive. And those that hold them don't relish the idea of other members paying less, even if they were playing less holes and a short-form golfer's competition fee was proportionately larger. Say, $10 for nine holes as opposed to $15.
Golf club boards – like their memberships – can be resistant to change. They're largely made up of time-rich types without the inclination to alienate existing members to attract new ones.
But hark! There on my golf club's noticeboard, an A4 bit of paper upon which was written "10 Hole Par comp – $5". I was in. I wrote down my name in the first slot at 6:31. And, come Saturday was on alone. In 28 spots there was myself and a four-ball at 7:06. And that was it.
So out I went out with three balls on a one-man Ambrose at a pristine time for golf; all the early light and brilliant twinkling dots of dew, my golf balls making the day's first pathways on the green. And I wondered: why would people not get amongst this?
Well, for one it was "marketed" with a piece of A4 paper pinned to a noticeboard. And given, as Homer Simpson once said, they have the internet on computers now, it would have made sense to inform members that it was on using telephones so smart they're like an extension of people's brains and which command every bastard eternally stare into them.
Or maybe people just aren't into short-form golf. Maybe it's just entrenched in our brains that golf takes four (and a bit, another story) hours to play. And that's just it.
But I played 10 holes in 90 minutes, taking my time and tooling about. I put my clubs in the rack, picked up a coffee at Macca's on the way home, and was reading the paper at our breakfast table before wifey had even emerged out of bed.
She reckons she can tell when I've had a poor round, and remarked: "You look happy." I told her that I was just back from golf. And she said, "Why don't you play golf early on Saturdays all the time?"
And I said: "Good idea."