Aged two he had a tumour on his kidney and lost his hearing. Aged 15 he had six hours to get to Melbourne for a heart transplant. He counts himself lucky and extremely grateful to be here. Yet his story is one of resilience and perseverance. The man's never given up and has emerged stronger with each setback. Today he runs a gym in Mona Vale, is completing his Bronze Medallion and is a competitive Olympic lifter. He is Paul Amiradaki. And he is flat-out unbreakable.
"I was two-and-a-half years old when my parents discovered that I had a kidney tumour. Every parent's worst nightmare, right? Little did we know my life had changed forever.
Everything from that point was a challenge. We discovered pretty quickly that I was going to be attached to hospitals, doctors and nurses, for life.
Chemotherapy, thank goodness, was a success and wiped out my tumour. Yet the consequences were losing a kidney and my hearing, and heart failure at some point down the track.
I somewhat had my life back after this first battle, and like most kids enjoyed school and playing sport. I became a swimmer and competed for my school and my swimming club and won quite regularly. I enjoyed competing against my brother in our backyard pool but I don't remember having much success, ha!
We made the life change and migrated from South Africa in the late 90's and in 1999, at age 13, my heath went downhill to the point where I was physically unable to do some of the most basic of tasks such as climbing stairs. There were days I would be cold and blue even on the hottest of Australian days.
I was faced with a harsh reality of needing to go on a transplant list for a new heart – it was my one shot of living a life.
A year later aged 14, my body deteriorated severely. I was sick with pneumonia which resulted in being hospitalised and bed-ridden for three months straight.
From then my life was a series of ups and downs, cycles of recovery and sickness my new norm. Hospital was my home.
By age 15 I was on my deathbed with not much longer to live.
One night at around 2am my parents' beeper went off saying a heart had become available.
I distinctly remember this night. My dad woke me and said: "Paul, you're going to Melbourne. A heart has arrived."
My response was: "You're joking."
My dad replied: "Why would I joke about that?"
I concede he had a point!
Everything from there was a blur of disbelief. Was my life really going to change?
I vividly remember being driven by my uncle through every red light to the airport where I boarded a jet to Melbourne. A heart can only be kept viable for transplantation for six hours so you can imagine how fast this process had to happen.
Next thing I've woken up feeling alive. And relieved, with so much more colour and gratitude for another chance of life.
Laying there, I mapped out my future. That hospital bed is where I began thinking about my zest for life and my love of sport and being active.
It's where my passion for health, fitness and performance truly began.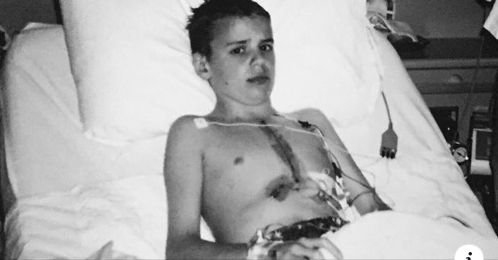 I finished school and travelled the world. At last count I have been to 23 countries and 57 cities. I also completed a Bachelor's in Applied Science (Sport and Exercise Science).
I got myself back into a healthy lifestyle, trained at a gym, played sport, indulged my inner Bogan with 4WD trips Outback, and even took up Olympic lifting competitively.
I needed to make the most of my second, even third, chance at life. I needed to prove to myself that no matter how hard the fall, I could always make my way back to the top and beyond.
I opened 360 Strength and Performance on the Northern Beaches in 2014 with the hopes of inspiring others that even when you've hit rock bottom, you can still come out on top.
I don't really talk much about my health issues as I don't want to use them as an excuse or reason for why I cant do things.
I truly believe if you want something badly enough you can persevere to achieve any goal.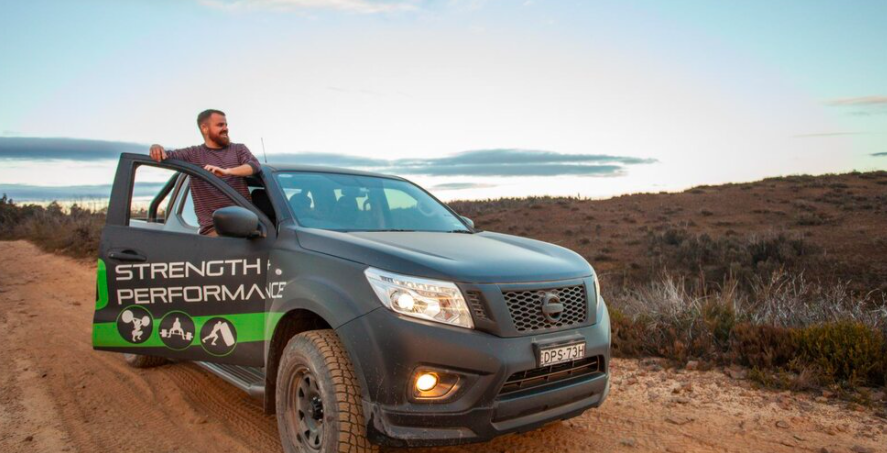 Road warrior: Paul Amiradaki heads Outback.
If I was to use any word that defines my life and me it would be "perseverance". With perseverance you can get through the worst of storms and still become the best athlete in your game!
I've grown the 360 Strength and Performance gym into a community that inspires athletes to persevere and achieve their own success.
My members come because they know I am passionate about driving them to achieve results and dominate in their sport – and in life.
To finish off my story, I had a heart attack recently in April of 2019 and had a stent put in. I almost had a second heart attack in March of 2020 and had another stent put in.
I am still standing and still persevering. I am training to complete the Bronze Medallion for my surf life saving club and will go back to Olympic lifting in 2021.
Perseverance is key.
What do you want to achieve?
Training with 360 Strength and Performance is by appointment.