Read Time:
3 Minute, 50 Second
My second coming as a runner happened in my mid-20s when I was in a really poor space with my health.
I'd run as a kid; I was in the athletics team at school and wasn't bad at cross-country.
But at university I'd played rugby union and led the classic lifestyle of a 20-something.
Then I went straight into a corporate job: overweight, always seemingly tired and in a bad spot.
Then I had the opportunity to attend a professional development course. And it really brought home the relationship between physical activity and mental health.
It made me appreciate the positive effects running had on health, particularly mental health.
Another take-out was that you didn't have to be pro athlete. You just had to get moving.
So move I did.
And it rekindled a love of running at just the right time. Ten years later I haven't looked back.
Today I call it a "non-negotiable" because I'd function much less optimally without it.
Indeed it's not a stretch to say that, given my job, it's been a life saver.
Both my parents were in the Army and one of my greatest honours is talking to athletes who came out for the Invictus Games.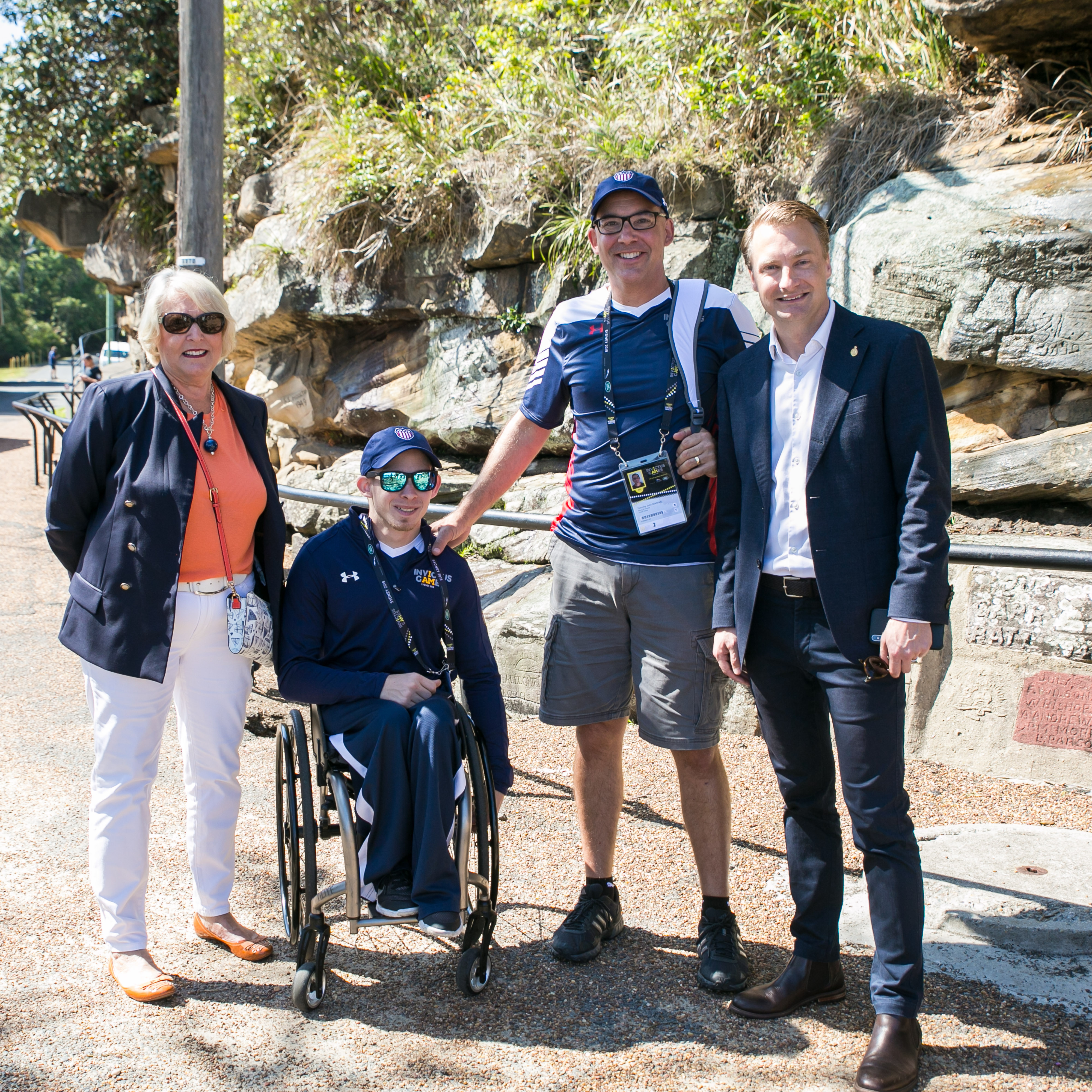 James Griffin, Member for Manly (right) with an Invictus Games athlete and family. Pic: James Griffin's office.
The Games are made up of veterans who've fought in Afghanistan, Iraq, a variety of theatres, and returned with physical or mental injury.
And I remember talking to these guys, many of them amputees, guys who've been through so much physically and mentally. And so many said that getting out and running or whatever exercise they did had brought them out of deep depression.
It shows you the power of exercise; if it can help veterans it can help anyone.
Talking to those guys also showed that you don't have to be an expert or a professional. You just need to get a pair of shoes on and get out there.
I'm a member of the Vipers, a local running club. It's good fun. They run every Thursday evening but there are other options. Their philosophy has merged running with what they call mental fitness.
When I'm running a lot of people do a little double-take, as if to say, hey there's that politician guy. It's probably not the normal situation you'll find your local MP.
But it's funny, a lot of people are encouraging, give the thumbs up. It's out of solidarity, I guess; everyone's out there trying to look after themselves.
If someone was looking to lose some weight, get a bit of mental fitness, some clarity – which is exactly the position I was in – I'd say that you'll get nothing but respect from your fellow runners.
It might sound funny, but they'll be proud of you for having a crack.
Everyone starts from somewhere and everyone's at their level of fitness. And everyone's lungs hurt, and sometimes they struggle for motivation.
But the people who stick with it, who continue to reap the benefits – and it'll sound simple – but they're the ones who just put their shoes on and get out do it.
And one run is all it will take to feel a bit of a difference. The exhilaration of completing a hard run will carry you through the day.
James Griffin, Member for Manly (centre) at Q Station with Invictus Games athletes and family members. Pic: James Griffin's office.
Another simple tid-bit is downloading the Strava app on your phone. It's free and you can track your performance and route, and join a little tribe.
We're blessed with great running tracks on the Northern Beaches. My go-to is Manly to Shelly and up to North Head and back. You get plenty of flat ground and workouts on the hills. You're rewarded with the view. Then you run back down. You can't beat that.
But there's always something we can do. I've just announced $200,000 to improve the track around Manly Dam. Feedback from the running community has been fantastic.
We need to keep supporting local events like the Sun Sun. Manly Beach Running Club are always there, a huge presence at fun runs. I always see their pink singlets in the Harbour Bridge Run or the City-to-Surf.
They're usually running past me!