Read Time:
5 Minute, 36 Second
James Hilterbrand remembers derbies.
Good ones, bad ones, last year's one at Manly Oval when, against much popular and, er, expert opinion, Manly Marlins dominated Warringah Rats to win 39-19.
And the victory song "Manly Boom Boom", ripped off al fresco in front of fans on the hill, was sweet indeed.
And yet – as Hilterbrand recalls in the Beaches Champion's "Locals" podcast – most memorable of all was his first derby, sitting on the bench and not wanting to go on for fear of being murdered.
Well, not "murdered", of course. It's a rugby field not Long Bay.
But Hilterbrand, then 19 and fresh out of Adelaide, was on Manly's bench for first grade following stints in thirds and reserves. And there he forged his thinking about the rugby rivalry between north and south on this peninsula.
"Tyrone Smith was playing centres [for Manly] and Beau Robinson was flanker [for Warringah]," Hilterbrand recalls. "There was a turnover of the ball in our half, we got the ball back and hoofed it into their 22.
"And in that ruck, Beau must've done something niggly to Tyrone because as Beau was tracking back to get onside Tyrone came up behind him and absolutely cleaned his clock.
"Tyrone's eyes had rolled back into his head, he was so angry. I don't know what Beau did but Tyrone basically tried to murder him.
"And I remember sitting there, thinking, 'Okay. I'm a young fellah. And I don't want to go on or else I'll get murdered'.
"It sort of set the tone for what the derbies are like and how they're passionately they're contested."
Like last season, Warringah is hot favourite going into Saturday's derby at Rat Park, the fixture now in its 50th year. The Rats sit 6th on the Shute Shield ladder and led Gordon for most of last Saturday's game at Chatswood Oval, going down 24-22 in an age-old "game they should've won".
Manly's form, meanwhile, has been patchy at best. They did redeem themselves after the 78-10 annihilation by Gordon in round one and have been competitive for long periods in all their matches since.
But they've also leaked points and deservedly sit 10th on the Shute Shield ladder ahead of Hunter, Penrith and Western Sydney Two Blues.
Yet none of this matters, according to Hilterbrand.
"Coming into a Rats' game, form doesn't matter," he says. "Whatever position you're on the ladder it just doesn't matter. It's looked upon as a standalone thing, not a regular season game.
"It's 50-50. Go as hard as you can. Get what you can.
"Last year's win was only our third of the year. We'd beaten Parra and Penrith, drawn with Hunter. So for us [beating Manly] meant a lot.
"Probably meant a lot more than it should have, unfortunately, because we had a crappy year!"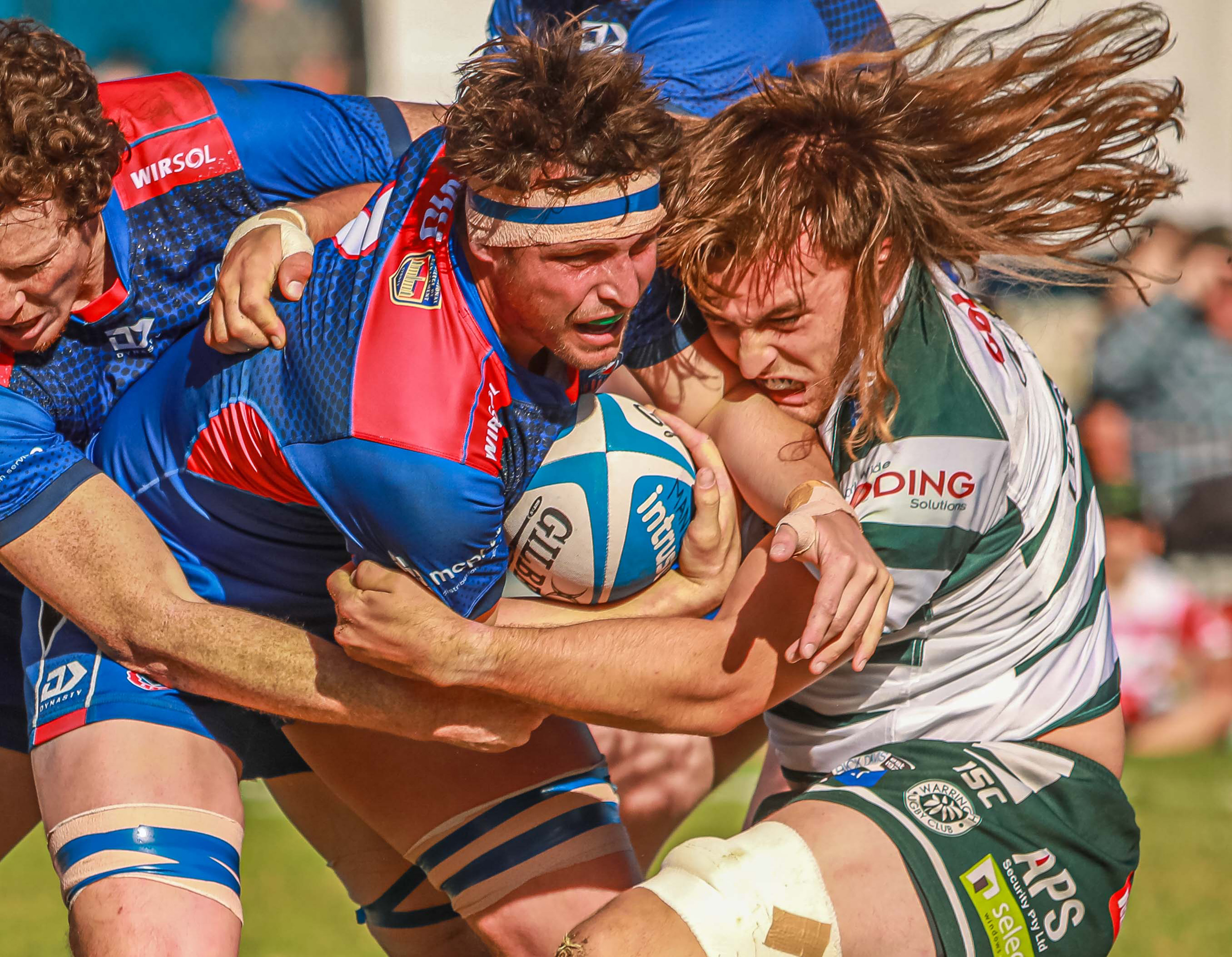 This one looked headed on a similar trajectory following said round one humiliation. Yet Hilterbrand was able to get his team-mates into a positive mindset through the cunning use of beer and chicken.
On the Saturday evening after the Gordon game the team gathered gathered at the Round Bar, muttered post-mortems.
Next day from 11am they rolled up to Hilterbrand's place in Little Manly – where "everyone thought they had to bring a carton", according to Hiltebrand – and watched their 32-year-old hooker skewer twenty chickens onto his rotisserie barbecue.
And there they sat, the greater Manly Marlins first grade squad, around the cooker, watching the chickens cook. And they drank their beer. And slowly, surely, they talked it out.
It wasn't so much an "honesty session", blokes calling out team-mates for missed tackles. It was more "grieving about what a crappy game it was", according to Hilterbrand.
"We didn't really go over the game critically, tell each other these are the things we need to be better here.
"It was more just going, man, that sucked. We just got beat by a club that has two of our former coaches, a smattering of former players. It made it a lot more personal.
"And we looked like a bunch of idiots."
But Hilterbrand is experienced to know that in rugby, unlike in life, you get a week to right the ship.
And right the ship they did when Harley Attwater hooked in a booming sideline conversion, after the bell, to secure a 24-22 win over Eastern Suburbs on the tight synthetic surface of Woollahra.
And the Marlins celebrated like they were all on a roughie at Randwick.
It was out of relief, as much as anything, according to Hilterbrand.
"The shed afterwards was obviously completely different to the week before. It was like, okay, we're not bad as we thought! If we'd played that badly again, my god, we have to head off to play subbies."
Heading into the big match Saturday, Hilterbrand is wary of Warringah's centres, Tyson Davis and Seb Wileman.
But he's not that wary.
"You've got be aware of who you're playing but you don't spend your whole bloody week on them," he says.
"But you look at their centres, Tyson and Fabio. You've got to be aware of those two dudes. Seb's a Super Rugby player. Tyson been around a while.
"So I think defensively, it's pretty easy to say, but we've got to get up in front of the face. It's about 'invisible defence' to prevent attack. Because usually if you're in front of them, they get their options cut.
"Apart from those guys, Benn Marr is apparently a good player. I don't think I've actually ever played him. I know his old man Greg actually, he used to coach me.
"So I'm sure if Ben's playing first grade he doesn't have his dad's athleticism.
"But apparently he's one of their better players."
Kick-off in first grade is at 3pm. Purchase tickets at WarringahRugby – IWannaTicket. Click below to listen to the podcast.