Golf is booming in the 'burbs. The outdoor, socially-distant and genial nature of the game means that golf ticks boxes for Covid-safe exercise essential for physical and mental health.
But there are rules.
To play golf on the northern beaches you must:
Live in the Northern Beaches LGA OR have travelled LESS than 10kms from another LGA;
Book ahead! Clubs will turn people away who just turn up;
Play in groups of two max;
Scan QR codes, mask up, be socially distant;
Leave flags in, preferred lies in bunker (and no rakes);
Otherwise it's like playing golf and a welcome piece of outdoor normality in these vexed times.
Follows is a list of golf courses on the northern beaches – Public and Private – and how to play 'em.
And how to play 'em.
PUBLIC
Mona Vale Golf Club
Getting on: A public course, Mona Vale has tee-times every day of the week for social play, and an Open competition for Golflink handicapped players. Ring ahead.
Pro Shop: (02) 9999 4266
Web: www.mvgc.com.au
The Mail: Running between Mona Vale Beach and Pittwater Road, MVGC is part-open, part-tree-lines, all wind-affected, and like a combination of its neighbours, linksy Long Reef and tree-lined Warringah.
And if you're ever banged up in Mona Vale Hospital, chances are you'll have a fine view over the golf course.
It begins high on the northern end, feeds into a basin, and runs upwards again. The first ten holes are lined by trees. The latter eight open up links style. 
Judiciousness off the tee for the first ten holes is advised. After that it's sa-wing, batter. With the linksy nature of the latter holes, Mona Vale affords some latitude off the tee, with several fairways operating not as their maker intended.
The strength of the prevailing nor-easterly or southerly winds determine club selection. But know this: rare is the afternoon it doesn't blow. 
Mona Vale is fun to play because there are several avenues to the green. But taking the designated route will determine scoring.
Terrey Hills Par-3
Getting on: Call ahead.
Pro Shop: (02) 9486 3577
Web: www.par3golf.com.au 
The Mail: Once a quarry, then a tip, today THP3 is Sydney's only day-and-night short course.
Now 21 years old it sits by the Ku-Ring-Gai Chase National Park with spectacular views and sunsets.
All welcome, all ages, all abilities from beginners out for their first hit to golfers looking to hone their short game.
First tee-time is 8am, last one at 8pm.
Bayview Golf Club
Getting on: Bayview calls itself "Bayview Social Golf Club" and welcomes players every day of the week and in their Open competitions. But you must call ahead for bookings.
Pro Shop: (02) 9999 3078
Web: www.bayviewgolfclub.com.au
The Mail: Set on rolling hills and amid native forest, Bayview has lakes, creeks and several other picturesque hazards. 
Avalon
Getting on: Ring up.  
Pro Shop: (02) 9918 2606
Web: www.avalongolfcourse.com.au
The Mail: "Royal Av" is "Where everyone's welcome". It's nine holes. Been around since 1926. It's friendly and fun, and a fine example of whack it, find it, repeat. 
Palm Beach
Getting on: Ring up. 
Pro Shop: (02) 9974 4079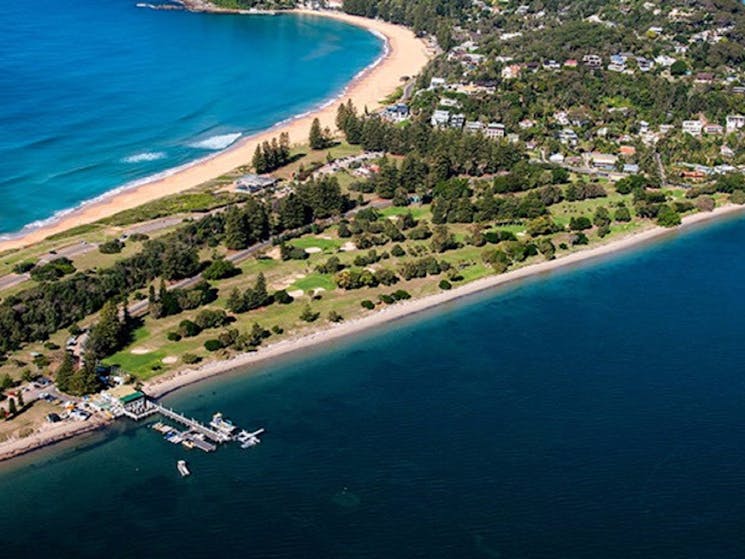 The Mail: Like playing golf on a very thin island, "Palmie" overlooks The Pittwater and is within a well-stuck 5-iron of Palm Beach and the Tasman Sea.
Fairways are lined with Norfolk pines and, of course, palm trees.
It's salty good fun, 50 minutes drive from Manly Wharf.
Follow an early morning round with a swim and a nice takeaway feed at the local fish-and-chippers.
Balgowlah
Getting on: Ring up. 
Pro Shop: (02) 9949 2057
Web: www.balgowlahgolfclub.com.au
A nine hole course, with palm fronds, ferns, wetlands, lizards, kookaburras. Nestled amid housing and in between some large and busy roads. Yet neither motorists or golfers might be aware of the other.
Long, straight hitters could just about own "Ballee". Everyone else need but hit the fairways, roll the ball down to the greens. And enjoy the serenity. 
Warringah Golf Club
Getting on: Ring ahead. Warringah offers tee times and entry in competitions for Golflink handicapped players (subject to availability) every day of the week.
Pro Shop: (02) 9905 1326
Web: www.warringahgolfclub.com.au
Mostly flat, entirely tree-lined, fairways criss-crossed by hazards, small greens guarded by shallow pots.
For this Long Reef member, accustomed to blazing away with driver and enjoying the still sweet fruits of a duck-hook or sky-blown slice that's traveled far away, Warringah has ever proven tricky. Trick is hitting it straight. You needn't be long. Anything that travels 200m off the tee sets up the hole.Take your licks with a sideways chop out when you must.
"It's like playing golf in a tree-lined corridor," I often tell my father-in-law who looks at me with pity for a fool. 
Apres golf one can walk across Condamine Street for a middie of Resch's at genuine 1972 prices.
Long Reef Golf Club
Getting on: Long Reef has tee-times available to the public every day. In Covid times you must book ahead.  
Pro Shop: (02) 9982 2943
Web: www.lrgc.com.au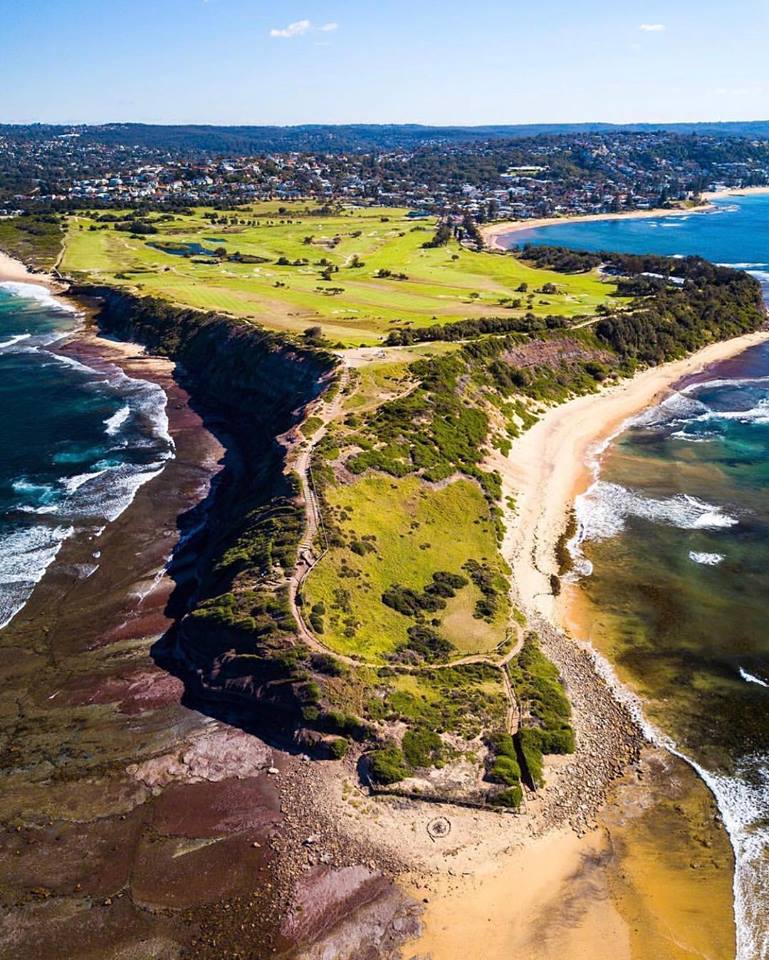 Open, windswept, "linksy" and interesting, "Longie" begins at sea level and rises out onto Long Reef headland like a giant marsupial poking its up head up for a scratch. (Topographically it resembles an echidna.)
"The views are really what makes the course," says Head Professional, Danny Vera. "Most visitors walk off talking about them. From the lookout on top of 16 you can see up and down the coast." 
Peter Thomson redesigned several holes on the 93-year old course that's hosted several Australian Open qualifiers and provides good practice in the wind. Whether a prevailing nor-easter, a southerly buster or a red-n-dusty one from the west, Long Reef is a different beast depending where and how fiercely it's coming from.
Greens are subtle combinations of Poa and Bent, and pure. You may caress the ball with confidence. 
Tactically golfers need to learn when to to attack, when to defend.
"We've got small greens so where to miss is really important," says Vera. "Miss in the wrong spots and there are some chip shots which are nearly impossible. Keeping the ball below the hole is important, too."
"The signature holes are probably 16 and 17. The 13th is an innocuous 138m par-3 down wind. But into it – small green, deep bunker short right, OB left – it's challenging." 
When it's windy you're going to miss greens. Hence dexterity with a wedge will help players make par. Most bunkers have relatively shallow faces. The best miss is probably in front – short-siding one's self can cost shots.  
Wakehurst Golf Club
Getting on: Ring ahead. Wakehurst has tee times every day of the week and an Open competition on Monday.
Pro Shop: (02) 9948 6126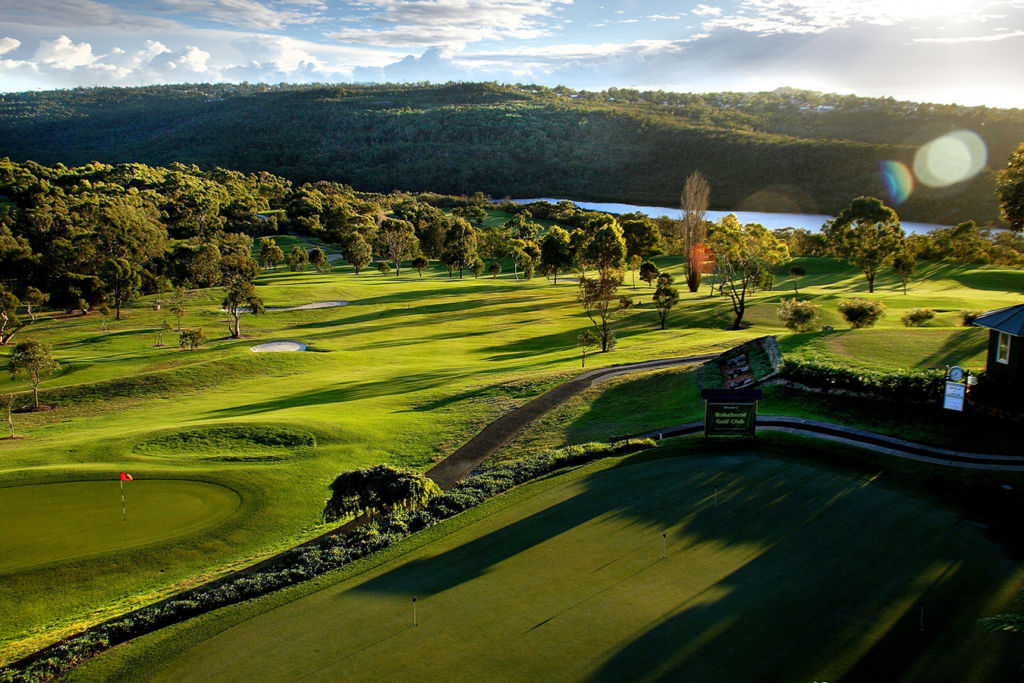 Wakehurst is native eucalypts, sub-tropical ferns, natural rock formations (some with Aboriginal significance) and lizards the size of Komodo Dragons. Maybe not that big. But big, man. Big.
Running across an escarpment that leads down to Manly Dam, Wakehurst is not so much up-and-down, as side-to-side. The fairways are set on levels, with slopes upwards or downwards either side. Balls sliced or hooked into a hill can find their way nicely back onto the fairway. Those whacked the alternate way may never be found. So know the undulations. Hit away from the danger. If in doubt, lay up.
Afterwards enjoy beautiful views over the course, Manly Dam and onwards to the coast from the balcony. Try the super hamburgers. Enjoy the company of blue-tongue lizards.
PRIVATE
Monash Country Club
Getting on: Monash is a private club that welcomes members' guests. Visitors with a Golflink handicap may use the course on Mondays, Tuesdays and Thursdays. Bookings essential.
Pro Shop: (02) 9913 7722
Web: www.monashcc.com.au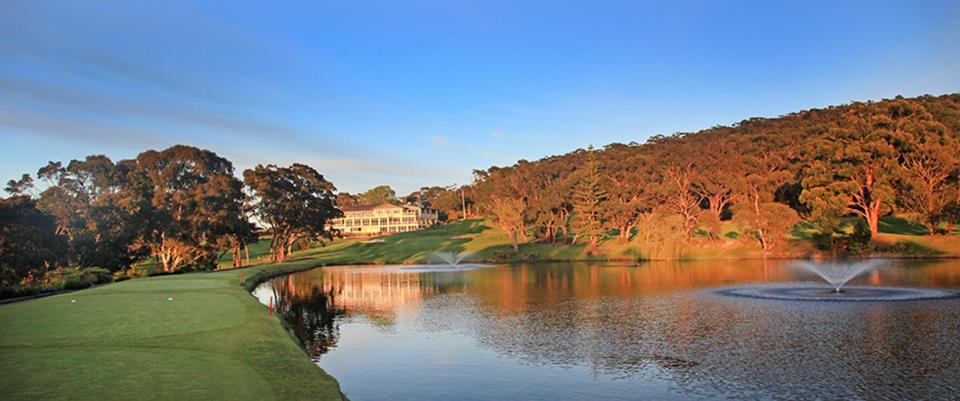 Mighty established gums, natural rock formations, blue tongue lizards – Monash is like playing golf among native Australian forest, on carpet-like fairways, and greens like green ice. Indeed Craig Parry once said of Monash's greens, "These are as quick as Augusta's." They are slick. First round this 7-marker played I struck the ball well tee-to-green and hit perhaps ten greens in regulation. Good numbers for me. Yet I ended up with 35 points courtesy of four (4) four-putts. True, if painful, story.
Monash has strong par-3s, particularly the signature 194m 14th that carries a lake and runs back to the clubhouse. Index one is the 386m dog-leg par-4 11th featuring one the Northern Beaches' quickest, most sloping greens. Several holes run up and down, requiring a club-or-two extra or less. Mainly you'll need to hit it straight. Or if you are going to slice, snap it high and long and well out onto another fairway. And then play the ball up that one, GPS your friend.
Terrey Hills Golf and Country Club
Getting on: Terrey Hills is a private Members club. Play is at the invitation of a Member. Invitees are considered "Members for the day".
Pro Shop: (02) 9486 4115
Web: www.terreyhillsgolf.com.au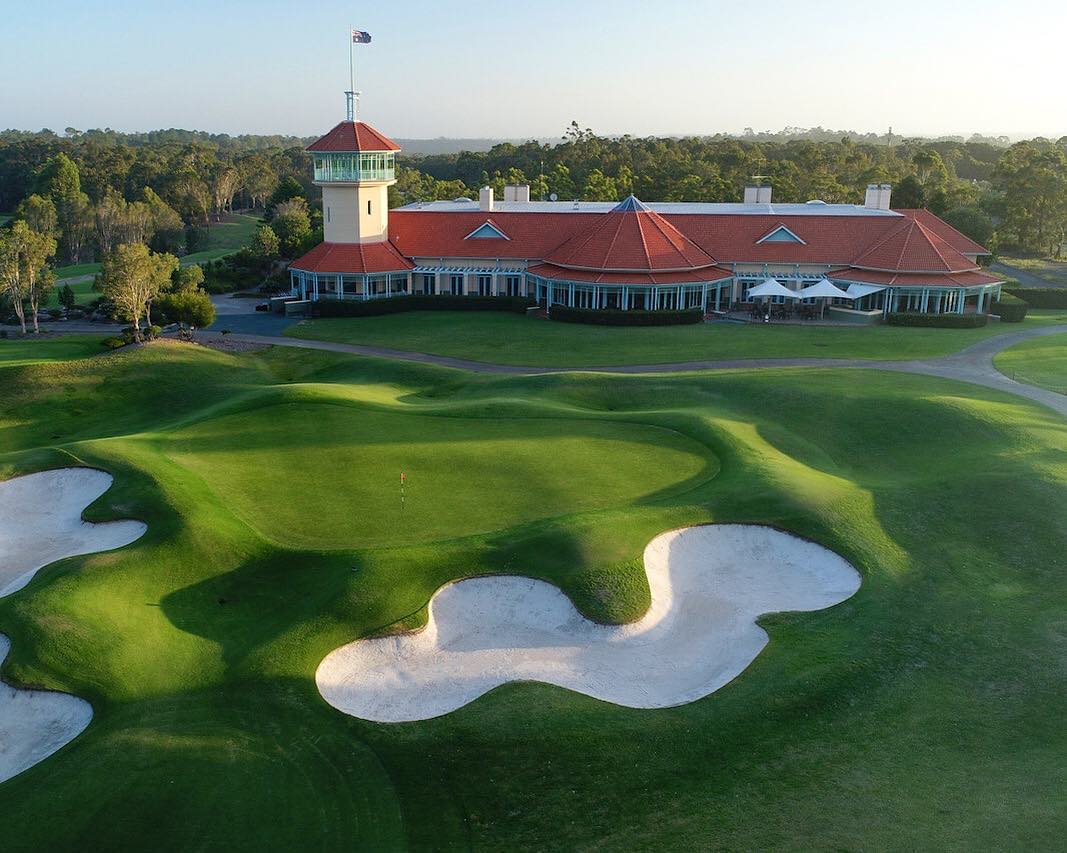 Five-time host of the Canon Challenge, the venue for the 2003 Women's Australian Open, and a corporate venue of choice, Terrey Hills "boasts a membership of 750 which includes leading Australian and international corporations and a private membership of Sydney's elite." 
It's a beautiful piece of golfing real estate. Eucalypts line rolling fairways that feed up to well-bunkered, pristine green complexe. Native bush, flowering wetlands, finely tuned fairways. It's a peach, Terrey Hills.
Playing it is all about ball-striking. From the tee good players should find the short stuff. It's the approach shots with long- and mid-irons that can determine a score.  
Cromer Golf Club
Getting on: A private members club, Cromer welcomes guests of members. Interstate and Golflink handicapped golfers call the GM on (02) 9982 3088.
Pro Shop: (02) 9971 2263
Web: www.cromergolfclub.com.au

Lot of trees, lot of water, and a lot to like in terms of bird life, marsupials and lizards. Cromer lost all their greens in 2010 because of some of sort of chemical stuff-up, but they've since replaced all twenty (including putting green and spare hole) with "the ultimate A1/A4 bent species of turf grass".
A bit like Monash, accuracy is important at Cromer. All fairways are lined with eucalypts and other native trees, while water is a factor on several holes. So blazing away with Driver at every opportunity, while fun, could result in balls being lost forever. 
Manly Golf Club
Getting on: Manly is a private course that welcomes Members' guests. Interstate and country golfers contact the General Manager.
Pro Shop: (02) 9907 9553
Web: www.manlygolf.com.au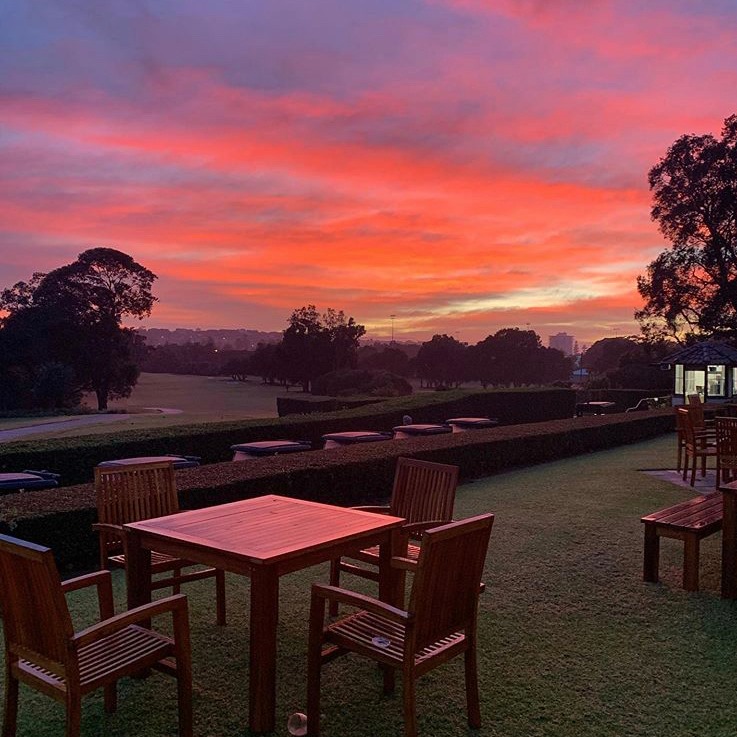 Lightly undulating, sculpted, pristine and pretty, Manly has waterways criss-crossing Windsor green fairways; interesting, contoured and pure A1 Bent greens; and mighty established gums, but not so many that they get in the way.
"It's become quite linksy," says Head Professional Philip Baird. "With the redevelopment [by Thomson-Perrett] we took out a lot of trees and replaced them with tens of thousands of native shrubs, wispy grasses, and fescues. And the north links, the northern side of Kenneth Road, is quite exposed and open. Prior to the redevelopment there was no water on the north side. There's now water on five of the 8 holes. Three are double water-carries."
Long bombers might see a risk-reward element but from this hack's experience it is mostly if not all risk.
"It's not really a risk-reward course," says Baird. "From the Members Tees, someone like Jason Day might take on the water carries. But it's a small parcel of land and we couldn't move the waterways, for which we copped a little bit of criticism for players having to lay up.
"The first two par-5s – two and three – they're three-shot par-5s. The course isn't long but it's narrow and requires strategic play, and placement. Your tee shot has to hit the fairway where you can access the flag.
"The greens are small complexes. The average size of greens is 4-600 square metres. We average 290." 
Elanora Country Club
Getting on: Elanora is a private members club with access for members' guests. Interstate and overseas guests must hold a current membership of a club, and provide a letter of introduction from their home club, and pay $250 for 18 holes. Afterwards one can enjoy fireplaces, snifters of cognac, luxury.
Pro Shop: (02) 9913 7330
Web: www.elanoracc.com.au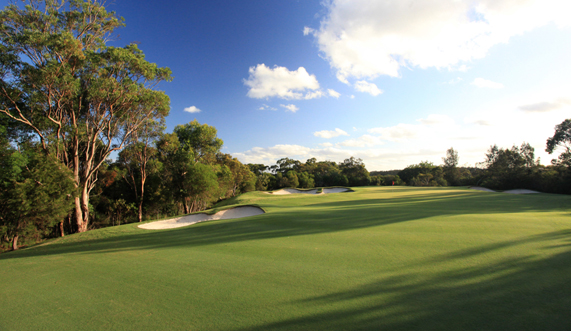 Buttressing Ku-Ring-Gai and Garigal National Parks, Elanora is all massive eucalyptus trees, bush and flowering wetlands. Native fauna scuttles about under the squawk of native birds. And it is pure.