Read Time:
4 Minute, 6 Second
After a "Hero In Jeans" saved the life of a paddle-boarder in treacherous surf south of Curly Pool , SCCSLSC Patrol Captain Rob Lowery and Beaches Champion Editor Matt Cleary tracked down the mysterious waterman on a roof in Dee Why.
By Matt Cleary
A surfer and roofer from a Dee Why chapter of Jehova's Witnesses has been revealed as the mystery waterman who stripped to his jeans and saved a man's life at a notorious section of rocks just south of South Curl Curl pool.
On a Monday after Christmas in 2019, Beau Harrison, 34, of Dee Why, took off his shirt and tie, and leapt into the dangerous swell in his jeans to rescue an exhausted stand-up paddle-boarder as big swell battered the rocks.
Harrison and wife Bianca had been on the boardwalk when they noticed a man in the water being battered by huge waves.
"He went under one, went under another one, and then a third – and then his hand went up for help," said Harrison. "The sets were really pounding in. He was clearly in trouble. His SUP was being battered against the rocks.
"I told someone to get help at the surf club, and then tried to work out what to do. There was a guy trying to coach him but it wasn't really working. He couldn't get him up the rock shelf. The sets were really pounding in.
"I said to someone nearby, 'Would you be confident going in?' He said he wouldn't. We noticed the SUP was bobbing about, battered on the rocks, and reckoned that was the way to go."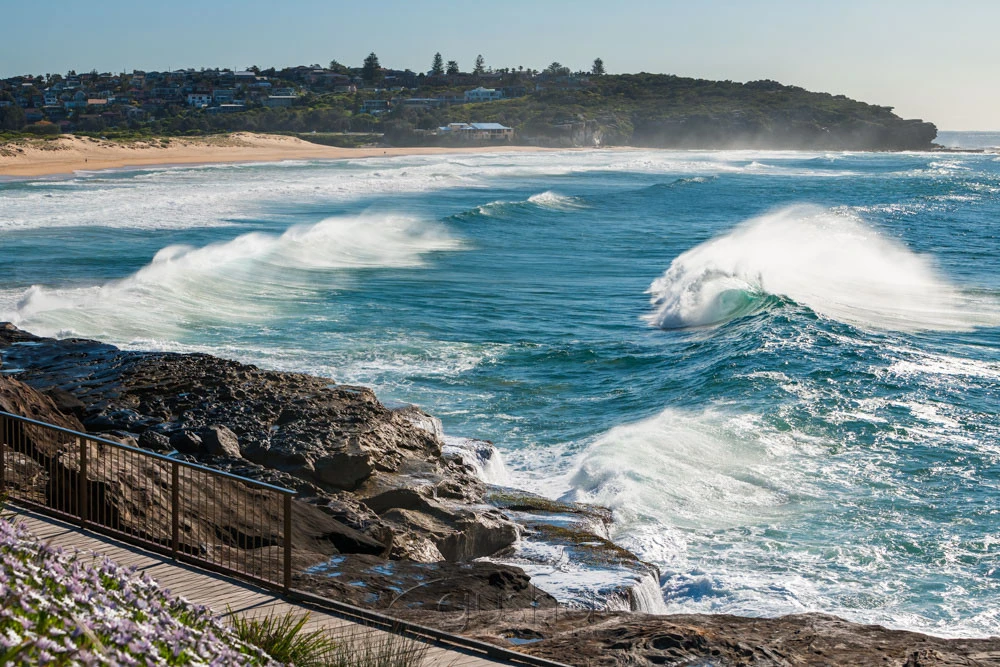 The rock shelf south of South Curl Curl pool is notoriously rough. Pic: Gusha Visualmedia, Brookvale.
Harrison had never surfed South Curl Curl but is an experienced surfer who knows an entry off rocks. He took the SUP, waited for a small break in the pounding crescendo, and leapt in. He paddled over to the man and secured him on the board.
"He was really struggling for breath and in a bad way," said Harrison. "But I got hold of him, and got him to hang on."
As the waves continued to crash over the pair, Harrison did his best to manoeuvre their craft away from the rocks until help arrived.
South Curl Curl's Dave Alldis had been swimming with his kids at the pool and was on the scene before Harrison but couldn't get the exhausted swimmer up the rock shelf.
Fellow club members Rob and Zac Lowery, and Kevin Moffat arrived to help when "out of nowhere", Harrison leapt into the life-threatening surf to save the man.
"Normally you think, well, now I've got two problems to deal with," said Alldis, a 30-year veteran of SCCSLSC. "But [Harrison] was extremely capable and clearly comfortable in the swell.
"He got the patient back onto the SUP and stayed with him until we got there."
Lowery said given the rough conditions, it's clear Alldis and Harrison saved a life.
"Neither the jet ski or the duck [rescue boat] could have got up against the rock shelf in the battering swell to secure this bloke who was pretty buggered.
"It took a swimmer and a paddle-boarder, both obvious watermen, to coordinate this successful outcome."
After the patient was secured on the jetski and taken towards a waiting ambulance at Freshwater, Harrison paddled the battered SUP, against the rip, back to South Curl Curl.
Then, according to one eyewitness, Harrison, still in his jeans, stood up on the SUP and caught a wave into the beach.
He pulled the craft up onto the sand, left it with local lifesavers, shook a few hands, and departed with his relieved wife Bianca.
Less than 24 hours later, Lowery and the Northern Beaches Sports Tribune tracked him down.
"He's now a legend at South Curly," said Lowery, boat sweep and Patrol Captain at SCCSLSC. "He told me he was watching carefully and didn't want to jump but decided he needed to act.
"He convinced himself it was just a standard 'rock-off'. It's anything but standard! Particularly for a bloke with no experience of Curly, and that rock shelf.
"But he proved himself a surfer and waterman. His confidence off the rocks showed that."
Lowery said South Curl Curl is "filled with hard men who don't praise easily". Adding that the club would consider a bravery award.
Harrison's wife Bianca told Lowery that the couple were "overjoyed beyond words" that Beau could help and that the man survived, and that his family has a father.
"She said there's a bible passage that Beau lives by," said Lowery. "And it goes: 'Do not withhold good if it is within your power to help'.
"Reckon he's lived by that."