Read Time:
10 Minute, 34 Second
In 1957 Moe Norman won 17 of the 21 golf tournaments he entered. It was the same year he shot 59 for the first time. Of that that round he said: "It could've been lower if I hadn't three-putted 10. In fact, I didn't putt that well all day. I just hit it close, is all."
Moe Norman may be the best player that never was.
According to noted ball-striker Lee Trevino – and just about anyone who saw him strike a golf ball – Moe Norman is the greatest ball-striker who ever lived.
Moe Norman was born in Ontario in 1930. Aged fifteen he was expelled from school because he was always out hitting golf balls in a field. A socially awkward, sensitive, solitary child, Moe Norman hit so many golf balls that his bloodied palms couldn't grip the club.
Yet by the time he was nineteen Moe Norman knew he had one singular skill – he could hit a golf ball straight where he wanted it to go, every time.
Moe Norman's swing was aesthetically ugly, at least compared to those of Adam Scott and Fred Couples, to name a few. He had a wide stance with stiff legs and stood relatively far from the ball. His arms and hands formed a straight line down to the shaft and club-head. He addressed the ball as he would strike it. He had a short backswing and his feet remained planted. The shaft remained on one, immutable plane, and the club head returned square to target every time. And he knocked it out there far enough. And it was pure, just about every time.
Moe Norman hit the ball so purely that grooves in the middle of his clubs wore flat. Coin-shaped indents formed in the sweet spots. His swing was once studied by Titleist, who found that there was zero sidespin imparted on the ball. Titleist has never found another player who produced zero sidespin. Titleist concluded that Moe Norman's ball-striking was indeed, perfect.
Moe Norman's ball flight, according to Tiger Woods, was "like 'Iron Byron", the mechanical ball-hitting machine. "The ball doesn't move," said Tiger.
Moe Norman described his baseball-style grip thus: "Fingers are fast, fingers are fast. Palms are calm, palms are calm." He gripped the club tightly, reasoning that it was the best way to ensure the club-face was square at impact.
Moe Norman didn't wear a glove and hit so many balls he'd build up a huge callous on the palm of his left hand. "It gets so thick that from time to time I take a pair of scissors and cut it off," he said. "The edge of the callous gets very sharp, if I dragged it across your face I'd draw blood."
Moe Norman worked in a bowling alley setting up pins (before there were machines) and caddied at his local club to fund golf trips around Canada. He slept in his car to save money. Before he owned a car, he would hitchhike to tournaments and sleep in the bunkers.
Moe Norman's first victory came after he'd hitchhiked to a course that he'd never seen before, shot 67, and hitchhiked home without collecting his trophy. He was too shy.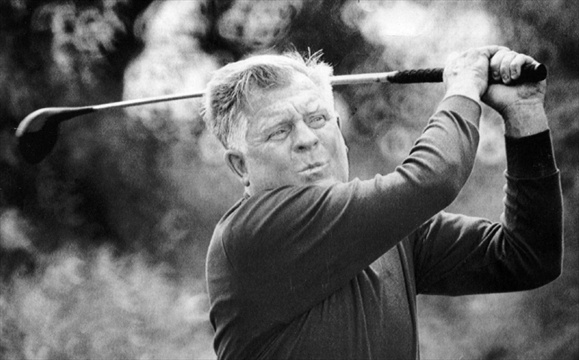 Moe Norman was really good at mathematics. He could tell you that he'd played 434 golf courses. He could list the yardages for each hole on 375 of those golf courses. He could tell you that in one 11-year period he incurred just one penalty stroke when he hit a ball that went out of bounds "by two feet". One day on the range, Moe Norman said he hit 2207 balls – "not including chips and putts".
Moe Norman had a desire for routine, an incredible mathematic mind and distinctive, repetitive speech patterns. Some thought it came from a bump to his head while tobogganing as a five year old. Others thought it might be a form of autism or Asperger's. Moe Norman was never diagnosed either way. He didn't visit a doctor until he was 68.
Moe Norman didn't touch alcohol but did drink 20 cans of Coca-Cola a day. Moe Norman's teeth were not very good.
Moe Norman never lined up putts. He just walked up and stroked it to the hole. He hated putting; felt it was in the way of his true love – repeatedly hitting the ball pure and straight.
Moe Norman saw practice swings as a waste. On the tee or fairway, he'd approach the ball from side-on rather than behind the ball as most players do. He reasoned that he played the ball from side-on; he didn't want a new view at the crucial moment he setup over it.
Moe Norman played fast. He'd literally walk up to the ball and hit it. He played so fast that tournament organisers asked him to slow down. If Moe Norman felt his fellow competitors were playing slowly, he would lie down on the fairway. Once, while waiting for a playing partner to putt out, he took off his shoes and went fishing for balls in a pond.
Moe Norman was once on a practice range next to Ben Hogan and heard the legend opine that the ball should always be worked from the left or right to the target, and that any straight shot was effectively an "accident". Moe Norman cocked an eyebrow and grinned.
With Hogan watching, he hit dozens of perfectly straight golf shots, one after another.
As Hogan left he remarked, "Just keep on hitting those accidents, kid."
Moe Norman once played an exhibition match with Sam Snead. At the 16th hole the players were faced with a stream that cut across the fairway, 250 yards away. Snead laid up and advised Moe Norman to do the same. Moe Norman, instead, took out driver.
"You can't clear the stream," said Sam Snead.
"I'm not trying to," replied Moe Norman. "I'm aiming at that bridge that crosses the stream."
Moe Norman hit driver and landed the ball on the bridge where it bounded towards the green.
Sam Snead later told people: "He has the best hands in golf."
Moe Norman is regarded as the greatest ball-striker golf's ever seen.
"Only two players have ever truly owned their swings – Moe Norman and Ben Hogan," said Tiger Woods.
"I'll tell you about a guy who can hit it better than anybody. His name is Moe Norman, up in Canada," said Tom Watson.
Lee Trevino said: "I do not know of any player who could strike a golf ball like Moe Norman, as far as hitting it solid, knowing where it's going."
Moe Norman won so many amateur tournaments that he would sell the prizes, often before the tournament had even been played. He reasoned that he couldn't watch 10 televisions or wear six watches. Plus he had to fund his tilt at the next tournament. Because he was selling the prizes, Moe Norman's amateur status was quashed by the Royal Canadian Golf Association. So Moe turned pro.
Moe Norman was invited to play in the US Masters at Augusta in 1956. He teed off while his name was being announced. He set off carrying his own bag before Augusta members found him a caddie. He carded 75 with six 3-putts.
The next day it was the same issues with the putter and 78. The Masters had no cut then so off to the range (though not the putting green) Moe Norman went. And it was there that Sam Snead – who as John Updike wrote would "swagger about the range like the sheriff of golf county" – offered Moe Norman some advice:
"You're coming down way too steep on the ball with your long irons," said Snead. "The secret to hitting a long iron is to hit them like fairway woods. Don't hit down or try to force it. Hit it like a nice 3-wood. Sweep it."
And so Moe Norman, in his way, practiced Snead's tips until dark, hitting so many golf balls (800) that his hands became bloody and calloused.
"They looked like hamburger," said Irv Lightstone, a pro and friend from Toronto. "Moe did things that were totally irrational and off the world."
Barely able to grip the club, Moe Norman withdrew the next day after nine holes. And never had a lesson again.
Moe Norman played only four rounds in major championship golf – all at Augusta – in 1956 and 1957. He would play just 12 tournaments on the PGA Tour in 1959 and 1960.
His aversion to slow play – and for Moe Norman 'slow' was anything but walking up to the ball, hitting it immediately and striding quickly onwards – made him noticeably agitated and jittery.
He was also sensitive to the jibes and even bullying from fellow players about his unusual swing, manner, diet and dress (he would wear black turtleneck jumpers in the heat and 'a montage of colours that had no relevancy to each other,' according to his friend Irv Lightstone.)
Wrote Bruce Selcraig in Readers Digest: "At the Los Angeles Open in 1959, a small group of players cornered Moe in the locker room. Stop goofing off, they told him, demanding that he improve his technique as well as his wardrobe."
Moe Norman sought acceptance from players he so admired. Instead he was shunned. Friends say the episode destroyed his self-confidence.
The final straw came with a dressing down from PGA Tour officials who insisted Moe Norman use a caddie, stop hitting balls off big tees, stop lying on the fairway if he thought things were too slow.
Just stop being different.
Moe Norman quit the PGA Tour towards the end of 1960.
"Life ate me up," he told ESPN in 2000. "Life ate me up. I couldn't do what I wanted to do. That's what hurt me."
Moe Norman just wanted to be loved. He returned to Canada, among his people, and won 55 professional tournaments.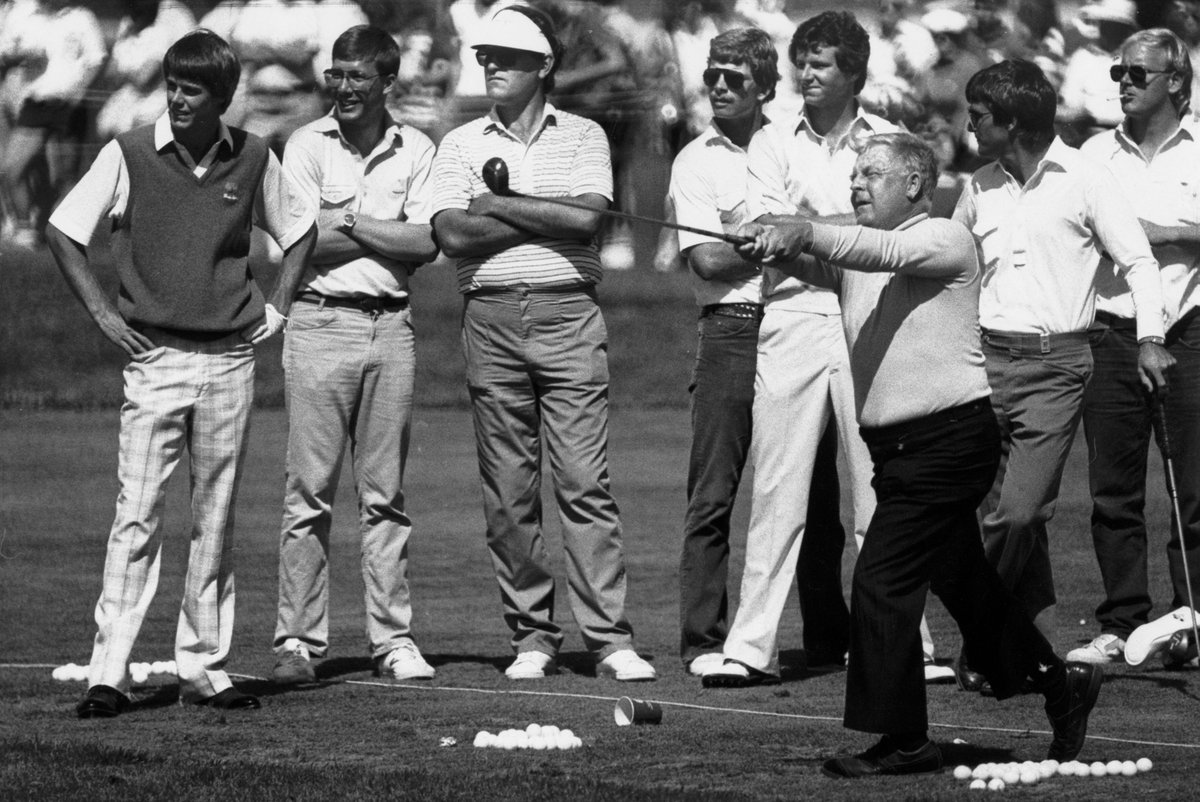 Moe Norman always carried cash money, thousands of dollars in $100 bills. Once when playing a round with some pals, he dashed into the bush. His friends assumed he was relieving himself. He came back with thousands of dollars in cash. He'd buried it for safe-keeping. Moe Norman didn't trust banks.
Moe Norman went through hard financial times in the early '90s. The Canadian tour had lost its sponsor and Moe Norman was back to sleeping in his car. He went to the 1995 PGA Merchandise Show in Orlando, Florida where he was approached by Titleist and Footjoy CEO, Wally Uihlein.
"I see you're still wearing our visor and wear our FootJoy shoes," said Uihlein. "You've played our ball for forty years. Has anyone done anything for you?"
Moe Norman replied that nobody had but nor had he ever asked.
Uihlein replied: "Give me your hand." The pair shook. And Uihlein promised: "You're going to get $5,000 a month from us for the rest of your life."
And thus Moe Norman, as chronicled in The Wall Street Journal, was paid "$5,000 a month for life—just for being Moe Norman".
And Moe Norman, aged 65, opened his first ever bank account.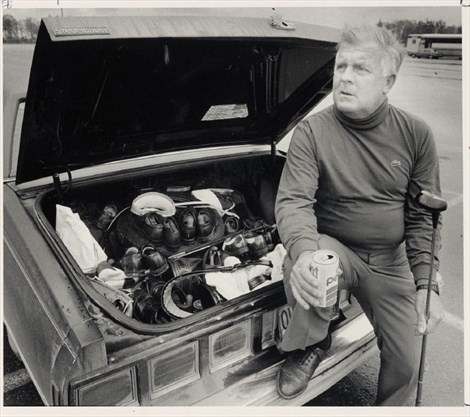 In 2000, Moe Norman told ESPN's Chris Connelly why he loves golf.
"Golf is happiness. It's intoxication without the hangover. It's stimulation without the pills. Its price is high yet its rewards are richer. Some say it's a boys' pastime yet it builds men. It cleanses the mind and rejuvenates the body. It's these things and many more for those of us who truly love it. Golf is truly happiness."
Moe Norman was granted entry into the Canadian Golf Hall of Fame in 1995. He entered the Canadian Sports Hall of Fame in 2006.
A week before the Canadian Open of 2004, Moe Norman died, aged 75. In his car they found a messy stash of golf balls, clubs, tees, gloves, clothes, books, notepads – and $20,000 cash.