Read Time:
5 Minute, 31 Second
Manly Marlins and Warringah Rats, two halves of Australian club rugby's best local derby, will add another chapter to their 51-year-old book of feuds when they play match number 100 at Manly Oval on Saturday.
And the Rats faithful will be streaming in from the hills, hungry for revenge, according to green-bearded Warringah supporter, Darren Hawthorne.
"I've got everything I need for the game tomorrow: warm beer – get that into you – and a milk crate so you can see because they haven't got a hill at Manly. Bunch of morons," Hawthorne said.
Filmed for his annual viral video address, Hawthorne then kicked a blue wheelie bin and declared: "I tell you what, tomorrow's going to be on, boys. We're coming for you Manly.
"You beat us at home. So you know what's going to happen? Revenge is sweet. And this beer's warm.
"Go you Ratties," Hawthorne added.
The Rats have had a middling season in 2022 and sit 7th on the Shute Shield ladder. They've lost their last three straight at Manly Oval including a resounding 39-19 thumping in 2020.
While Manly lies third after being on top most of the year, ladder positions mean nothing in these games, according to Warringah captain Rory O'Connor, who said that the derby is "like playing backyard footy with your little step brother".
"Naturally, you have to hang around with him but you're not sure why; your parents just told you that you have to.
"You're also very competitive with him. And because he's your step brother, you're more than happy to watch him lose," O'Connor said.
The derby is also like a grand final, O'Connor said.
"Both teams have everything to gain and everything to lose. So regardless of where each team stands on the ladder, anything can happen given the hype surrounding the day.
"The team who shuts out that hype and sticks to their plan tends to come out on top," O'Connor said.
The Rats are coming off consecutive losses to Western Sydney, University and Randwick but "there's still a huge amount of confidence within the group," according to O'Connor.
"We've shown that we can play at the level required to win the competition but we've been our own worst enemies in terms of individual errors.
"We've lacked the ability to execute at key moments which has been the difference in several of our close losses. We've been working hard on improving our core skills under pressure to make those key moments count."
O'Connor said his team would pressure the dangerous Manly five-eighth Kemu Valetini, that his backline would "make a statement" and that his forwards would get through their usual "huge amount of work".
O'Connor added that the Rats eight is "one of the best scrums in the competition."
At the southern end of the great divide Manly Marlins head coach Phil Blake said the contest will feature "two desperate teams with everything to play for".
"We won't have any problem getting up for it.
"We are a lot better than we have shown over the past two weeks and this is a big chance to put things right in front of our fans," Blake said.
After a dispiriting loss to Hunter Wildfires last Saturday Blake gathered his first grade squad on the field after the match and addressed them for 10 minutes.
"We got out-played, out-kicked, had no territory and it was all compounded by frequent first-phase turnovers," Blake said.
"And when we did get field position, we got penalised out of the field position.
"We need people to stand up and take control of the situation.
"There was no correlation to how we trained to how we played."
Derbies rarely do.
Former Rats captain and Birmingham-bound rugby sevens representative Ben Marr told the Beaches Champion that the team needs to back themselves.
"We've had a few tough results over the last few weeks but I think the group just has to back each other to get their confidence back. Because we've got the team to win.
"And while this sounds biased – well, it is biased – but I think that if we stick to our guns, get that belief back and play the game that we can play, we'll go down there and get the win for sure."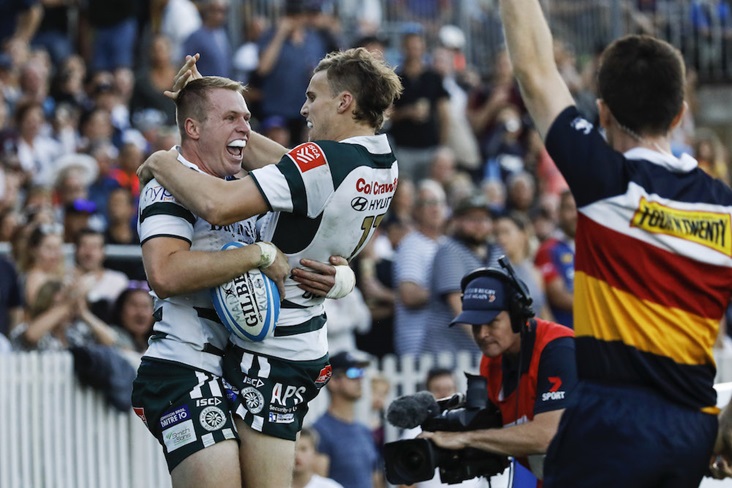 Marr's most memorable derby was his debut in 2019 when the Rats came back from 25-3 to win at Manly Oval.
Just after half-time with Manly attacking the Warringah line, Marr plucked an intercept and ran the length of the field and begat a comeback for the ages.
"It was kind of just an all-or-nothing moment. The ball just fell into my hands and I just ran the length. If I'd missed it they score in the corner and go up 30-3. So it was it was a cool moment, it was awesome. I had all my mates there and I was playing with one of my best mates in Ben Woollett. It was a special day," Marr said.
When veteran halfback Josh Holmes touched down under the posts at the death, Warringah Rats 31 defeated Manly Marlins 25 in front of a bumper crowd of 10,000.
As reported in Manly Marlins "Fillets" newsletter, incessant rain has caused havoc with Saturday's match-day schedule, forcing changes to venues and kick-off times.
First grade (3pm) and reserve grade (1:20pm) will kick off at their usual time, while third grade (10.45am) and fourths (9.30am) will play at Rat Park.
All Colts games will now be played at Keirle Park, starting at 9.15am.
Prior to the first grade game a helicopter carrying the Mounties Cup will land on the halfway line.
A helicopter carrying the Mounties Cup will land prior to kick-off in firsts.
Fans coming to the game are urged to pre-purchase tickets.