In November of 1978, nineteen-year-old Paul Vautin climbed into his green-and-beige two-door LS Monaro and drove from Brisbane to Brookvale with his life in the boot.
He turned up to Manly Sea Eagles training a "Neville" as in nobody.
And Manly, at the time, reigning premiers, were Footy Who's Who.
On the training paddock that day were internationals Terry Randall, Max Krilich, Graeme Eadie, Alan Thompson, Ian Thomson, John Grey and the man who'd become Vautin's best mate and manager, John Gibbs.
They weren't mates then, though. And Vautin stood alone, no-one talking to him.
Then legendary front-row forward Freddy Jones approached the stocky, tubby, flame-haired kid from Queensland.
Jones, the 1972 premiership-winning captain, was well into retirement. He was nursing a can of KB and there was a Rothmans cigarette hanging from the side of his mouth.
He looked Vautin up and down and within the greater group's earshot said:
"Who's this little fatty, then?"
"And that was that," Vautin says.
"I've been Fatty ever since."

Fat: thin. Pic: NRL.com.
It was a little over six months earlier that Vautin debuted in first grade for Wests in Brisbane. He played against Wally Lewis, the pair coming through junior footy together.
On his phone Vautin still has an image of the program from the day: Norths against Wests. Daryl Brohman played for Norths.
Sydney Clubs came a-calling. There was an offer from North Sydney Bears.
Coach Tommy Bishop travelled to the Vautin family home in Brisbane to talk money.
Vautin's contract with Wests was $100 a year.
Bishop offered considerably more, according to Vautin.
"When Tommy came up, my old man was sitting next me in our lounge room.
"Mum had made some lamingtons and a cup of tea. And when Tommy told us the offer – $7500 – the old man almost choked on a lamington!
"Dad was a train-driver, on five-and-a-half grand a year.
"And Tommy Bishop doesn't know this to this day, but a bit of Lamington flew out of dad's gob and into Tommy's tea!
"He kept drinking it," Vautin says.
Wests, however, in their wisdom, added a $6000 transfer fee.
Bishop rang Vautin the next day and said: "Sorry, lad. The North Sydney board haven't heard of you; won't pay the six thousand."
Ken Arthurson would.
The Manly boss flew up and signed Vautin to the Sea Eagles for three seasons.
"There was a story about it in Rugby League Week, a photo of me training alone," Vautin says.
"I'm quoted saying, 'Look, I'm hoping to play a bit of reserve grade, get to firsts, that'll be great.'"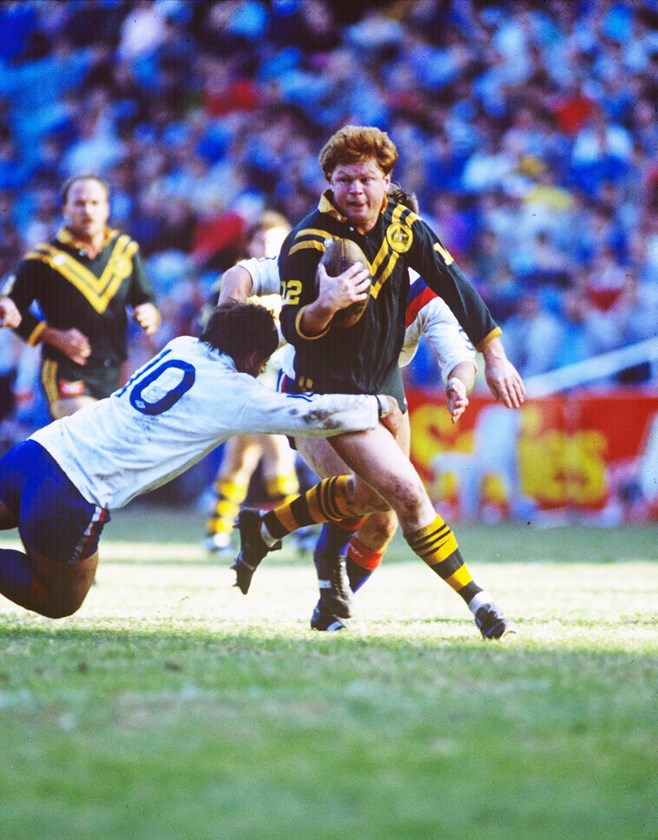 He did a bit more than play reserves for Manly, Paul Vautin. Pic: NRL.com.
After a couple of trials and a run in the reserves, Vautin was on the bench for the Sea Eagles' first round game of 1979 against St.George Dragons at Kogarah Jubilee.
After 40 minutes, without being called on, he was in the dressing sheds listening to coach Frank Stanton's half-time address.
"Terry Randall had a hand like a Christmas ham, he'd broken it," Vautin says.
"And Frank looked around and went, 'You: Red-head – you'll do, you're on'.
"First time I took the ball up, I'm 82 kilos, ran straight into Rod Reddy, John Jarvis and Craig Young. How do you think that went?
"But I remember I got up and thought, How good's this?"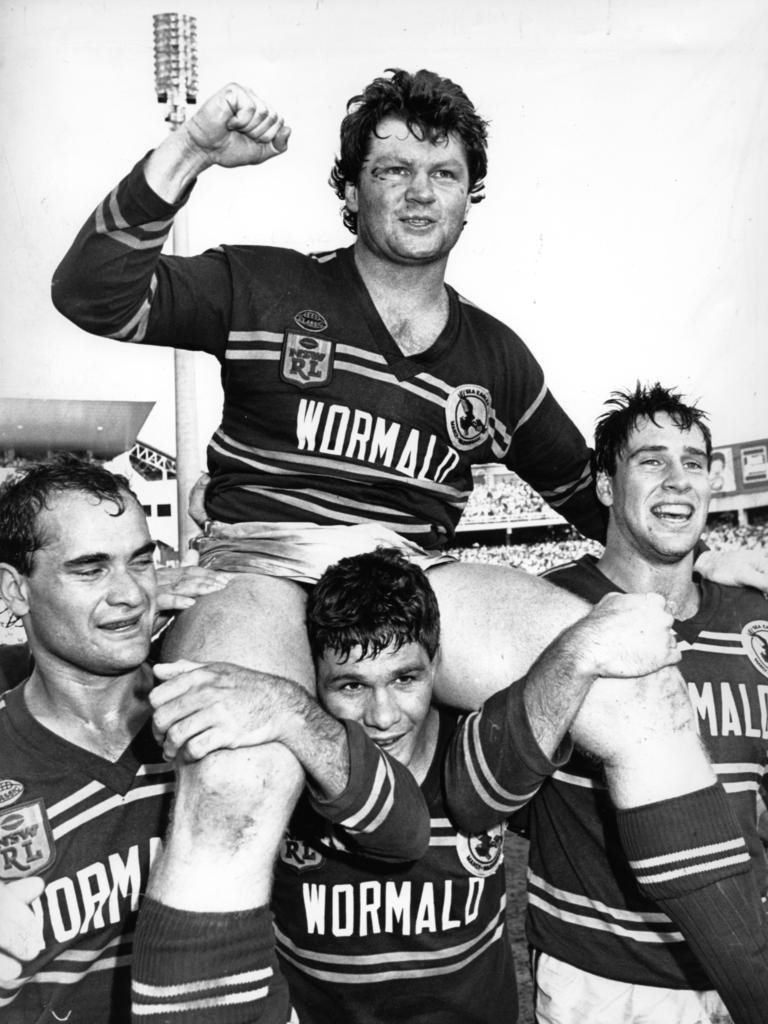 Paul Vautin captains Manly to the 1987 Premiership. Pic: Getty.
There followed a storied rugby league career. Many know Vautin only for this TV work. But he did everything.
He captained Manly to a premiership. Captained Queensland. He was vice-captain of Australia and played 13 times in the famous eucalyptus green with wattle-gold chevrons.
Yet Vautin reckons perhaps his greatest achievement came at the end of his career.
"End of 1989 I was in New Zealand with the Kangaroos. I was vice-captain of Australia. And on tour I'd been hearing whispers, and reading things in the paper that Manly didn't want me. Which was a bit upsetting. If it's in the paper it means it's been planted, generally.
"I got back home and asked the club what's the story. I was told here's the deal – fifty grand, take it or leave it. I was on a hundred, which was pretty good money then. So I told them to stick it up their arse.
"And in hindsight I shouldn't have. I should've taken the offer and thought about it, talked to some people. But I was emotional. Told them to shove it.
"And signed with the Roosters," Vautin says.
But 1990 was an ordinary year for the Roosters. They lost eight in a row. They sacked Russell Fairfax as coach.
And they dropped their captain:
P.Vautin.
"So I'd gone from vice-captain of Australia to reserve grade at the Roosters.
"And it was all my own fault, I can put my hand up and say that.
"My heart wasn't in it for a lot of the time. And I was dropped. Reserve grade.
"it was a dud year for the club."
Then, however, "one of the greatest things I ever did," according to Vautin.
"I rang Jack and said, 'Why don't you pay me out? I'm going to retire.' Jack said, 'That'd be too easy for you, son. I'll tell you what you can do. You can either get back to the player that I know that you are. Or you can play for Bondi United. And you can earn your 75 grand that way.' I thought, No thanks.
"So I trained and I trained, and in round one of the next year, Hugh McGahan was out, and I was captain of Easts, leading them out against Souths. It was nearly my greatest achievement in rugby league. I was fucked and far-from. I was 32 years of age. And I had a really good year, played some good football. And I'd had enough and retired."
Vautin went into television where The Footy Show ran for 21 years and won eleven Logies.
He also had a stint as Maroons coach and in 1995 won a famous – and still frankly ridiculous – Origin series 3-nil.
Not bad for a little fatty.