Read Time:
4 Minute, 39 Second
There are two theories how Sea Eagles legend Noel Cleal came to the nickname "Crusher".
There is Crusher's version.
And there is the truth.
Cleal will tell you he came by the handle because he was hunting feral pigs in the bush, and leapt on one and killed it.
When pressed, however, he will give credit where it's due.
"I tell everyone I dived on a pig and killed it but it was 'Bozo' [Bob Fulton] who came up with it.
"It was probably when I was playing against Wyong at Wyong.
"I put a big tackle on a bloke who didn't get up very quickly.
"You'd have got eight weeks for it today," Cleal says.
Cleal's links with Fulton were strong, taking him from Scone Thoroughbreds to the Eastern Suburbs Roosters in 1980 and then onwards to Manly Warringah Sea Eagles, where he finished up in 1989.
In that time he did everything – premiership, State of Origin, Kangaroo Tour.
Not bad for a big lump for the bush.
By 1979 Cleal and his older brother Les were 19 and 22 but already renowned on rugby league's bush telegraph.
And thus they were picked to play for a Northern Rivers selection XIII against the visiting Great Britain team at Tamworth.
And so up from Scone they came, a pair of thumping big men in thick shaggy beards wedged in the cabin of an old ute.
There was a pig dog in the back and a sports bag on the bench seat between them.
In the bag were two towels and two pairs of football boots.
And along the way the Cleal boys hatched a cunning plan how to conquer the powerful Poms.
And the plan was this:
You run and then I'll run.
Noel Cleal versus Great Britain, 1986 Kangaroo Tour. Pic: NRL.com
"Before the game we said to each other, you have a run then I'll have a run and we'll see how we go," Noel says.
"But in the first 20 minutes all the play was on my side of the field. So by the time Les got his first touch he was full of anger. Well, not anger. But let's just say he was very keen!
"So first touch of the ball he smashes into the line, carries three or four Pommies over with him and scores under the posts.
"We both had the big woolly beards at the time, and I remember [Great Britain captain] Roger Millward rallying his troops, yelling, 'Lads, lads! Remember! There's fooking two of 'em!"
Cleal grew up in the north-western NSW town of Warialda. His father was a shearer, his mum a "cocky's daughter". After leaving school Cleal became renowned as a big, hard-working farm hand and pig shooter. Yet it was his ability on the football field that set the bush telegraph afire.
With older brother Les – a legend of bush rugby league – Cleal would travel around NSW and Queensland playing footy, having fun and getting paid for it.
They went as a double act: Les as captain-coach and all-action forward or centre-wing, Noel as a fleet-footed and furious winger or centre.
They would win a premiership with South Burnett in Queensland and with Sawtell Panthers, who went through undefeated, where their nicknames were "Blossom" and "Precious".
"My first job after school was working on my grandparents' farm, for seven dollars a week," Cleal says.
"But because all the main work on a farm – lamb marking, the sheep dipping, crutching, etcetera – is done in the summer, in winter, Les and I would go off and play footy.
"So after working all summer we'd take off and earn a few bob playing footy around the country.
"We thought it was great."
.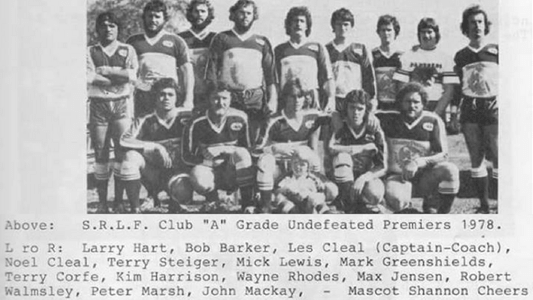 "Precious" Les and Noel "Blossom" Cleal, back row, 3rd and 4th from left – with the undefeated Sawtell Panthers of 1978. Pic: Sawtell Rugby League Football Club
While playing for Scone Thoroughbreds, Noel came under notice of one Kerry Packer, owner of thoroughbreds and The Scone Advocate. Cleal took Packer pig-shooting and Australia's wealthiest man soon became an advocate for Cleal to be a part of Packer's team, the Eastern Suburbs Roosters.
And soon enough the Chookies had a huge, full-bearded flier. Indeed as Milward said, they got fooking two of them – Les came down in '82, too.
Meanwhile, Noel continued to grow. Without ever losing his pace. And he became a rampaging beast.
A destructive ball-runner, Cleal used his size and speed, and a small degree of footwork, to storm into the opposition defensive wall, often requiring several players to stop him.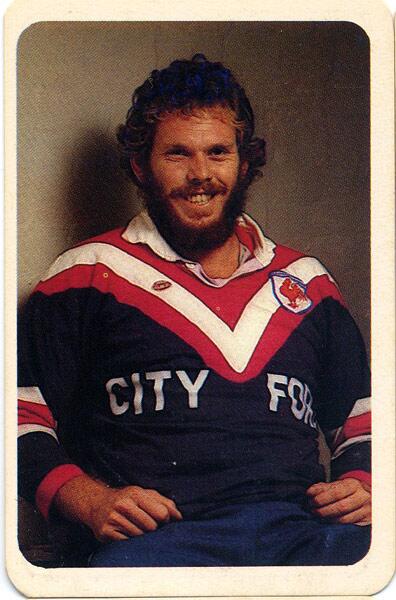 Crusher the Chook circa 1980. Pic: Scanlen's Gum.
After he followed Fulton (and money, must be said) to Brookvale he was moved to the second-row where the coach devised the crafty move: Give the ball to Crusher – with a long run-up.
It went like this: From a tap re-start Cleal would mark out a run, and then begin running. He'd then steadily build up pace until he'd take ball flat out, hurling himself at the opposition, more often than not crashing through like a bowling ball with a beard. It was unscientific, and brutally effective.
And he did it for ten seasons. And rugby league fans of all stripes thrilled to the deeds of of the man called Crusher.
And Blossom.
But mainly Crusher.