Some years ago, indeed it was 2016, I was in the privileged position of sharing a coffee and chin-wag in Dee Why with the great Paul Vautin. And there, at B.A.R. Cafe & Resto, as Vautin's old mates John Gibbs and Don McKinnon silently played a game of 500 that's been going since 1976, Vautin regaled us with tales of his time as coach of Queensland Maroons.
And while Queenslanders have long talked up their unbreakable bonds of brotherhood, and all that, in the Super League era this was not the case at all. Indeed two tribes were at war within the Queensland camp.
In 1995, following the first tumultuous months of rugby league's internecine Super League War, with the code riven between Rupert Murdoch's cashed-up interloper and the Kerry Packer-backed "establishment" Australian Rugby League, Sea Eagles legend Vautin coached a team of misfits and outcasts to a famous State of Origin clean-sweep over New South Wales Blues.
This is not that story.
Because that story will never be forgotten. Who could forget that? Those feisty rebels, those Bad News Bears, those children of the sugar cane, somehow, unbelievably, on wits and spit and spirit alone, bested the best of the Blues, men who on paper should have owned them. Those '95 Queensland Maroons, with "Fatty" Vautin's bust front and centre of the pantheon, their names will live forever.
This story, rather, is a very "un-Queensland" tale of fractured friendships, fear and loathing. This is a tale that turns Origin's "mate-against-mate" ethos inside out, with Queenslanders turning on Queenslanders, and trust and loyalty and team harmony all casualties of a war that engulfed them all.
In 1996 the ARL Premiership was a 20-team competition featuring Super League- and ARL-aligned clubs. Packer-backed Sydney Tigers played News Ltd-backed Western Reds. New – South Queensland Crushers – played old – North Sydney Bears. So much money, so much carping, so little common ground. They were bad times at Ridgemont High.
Yet both Origin squads would be at full strength again when it was agreed that NSWRL and QRL should select players signed to either camp. And in the Queensland Origin one, among players from rival Super League or ARL factions, it was dogs and cats living together.
"It was a massively troubled camp," Vautin said over that Dee Why flat white. "The year before we'd been told we couldn't pick the Super League players. In '96 everyone was available. So we went back and picked nine Brisbane Broncos players, all very good players: Steve Renouf, Kevvy Walters, Allan Langer. And we also had eight of the previous year's team as well.
"In my first team talk in '95, there were young blokes, older blokes, but all bug-eyed and right into it. I did pretty much the same speech in '96 and I actually saw a couple of players rolling their eyes. Like, 'here we go'. I actually did my best to get blokes together."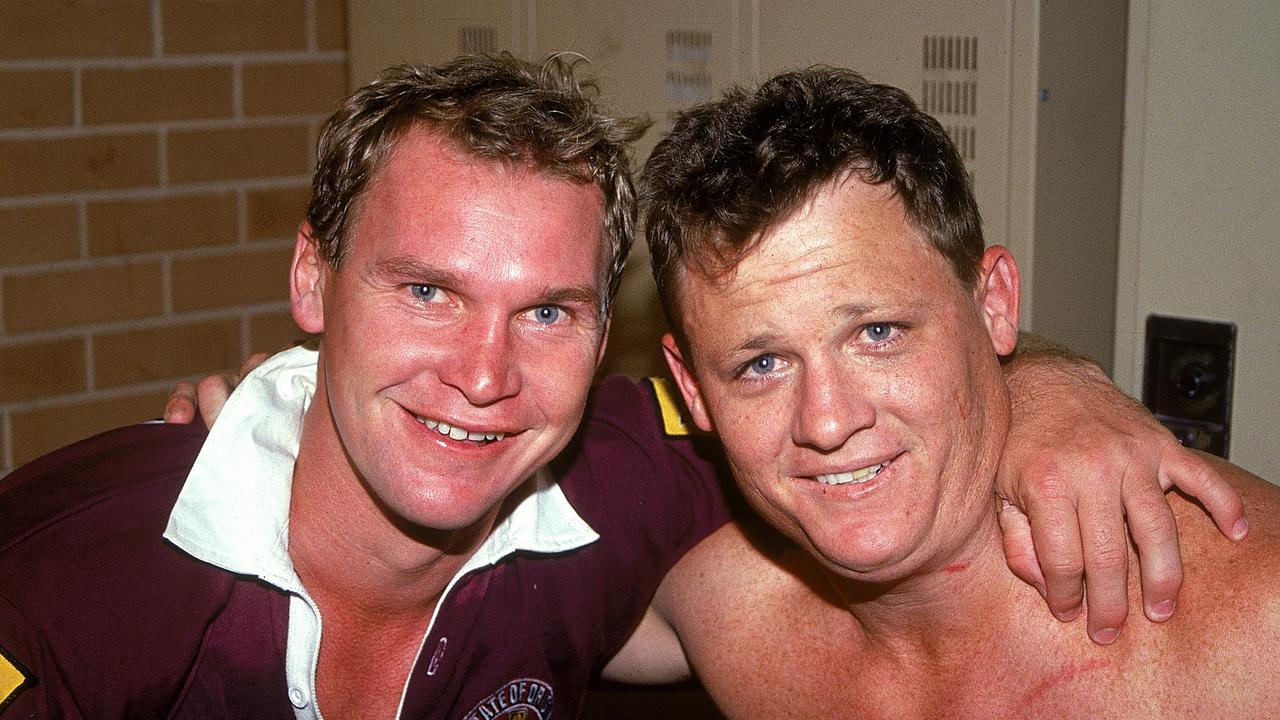 It didn't work. Two days before game one, senior Maroon Mark Coyne fronted Vautin and told him of a rupture between ARL players and Broncos.
"Mark came up to me and said, 'Mate, this is torture, we can't work with these guys'. I said, 'What are you talking about? He says, 'The Broncos, mate. They won't even talk to us!'"
Until then Vautin hadn't noted any schism between the players – to him they were all Queenslanders first, club players a distant second. But once Coyne made him see it, he couldn't un-see it. He also worked out that some players didn't rate him as a coach. This was backed by feedback from inside and outside the camp.
"The Broncos blokes were like, 'Fatty's not good enough, the coach should be Wayne Bennett, he's the greatest coach', all that. I was getting that sort of feedback. And I'd say I'm not coaching the Broncos, I'm not coaching a club side. I'm coaching Queenslanders.
"It just wasn't the same as the year before. But then I wasn't trying to replicate the year before. I knew I had different players and I treated them all equally. I said you're all Queenslanders, you're all the same to me. But, mate, it was a troubled camp and it wasn't a great series," Vautin said.
Following the third match, won 15-14 by the Blues to complete the whitewash, Vautin received empathy from an unlikely source – Blues coach, Phil "Gus" Gould.
"In '95, Gus was the first bloke on the field to come up and say, 'Congratulations on what you did, I'm happy for you'. After the third game in '96 he came up to me on the field and said, 'Mate, I feel for you. Because I saw your players, I saw footage of you talking to them at Lang Park, as a team. And I was looking at the players watching you, and I'm telling you, a few of them weren't even listening.'
"That was just an observation by him, about our team. And he was talking about some of the Broncos players. And of course we were beaten three-nil.
"Of course there was also NSW's team, with all their Super League players – Brad Fittler, Laurie Daley, Andrew Johns. But no – it wasn't that enjoyable," Vautin said.
And so the Super League War raged and by 1997 the two tribes had gone separate ways, again, and there were two competitions and interstate "Origin" series. The ARL "establishment" Blues wheeled out Tommy Raudonikis while Vautin was given another go in charge of the underdog Maroons. (Meanwhile in Super League, as Vautin pointed out with the barest shred of schadenfreude, Queensland lost to NSW, "beaten twice under Wayne Bennett".)
After the ARL "True" Blues won game one 8-6 in Brisbane (crowd: 28,222), the sides headed to the Melbourne Cricket Ground (crowd: 25,105). The crowds were dismal by Origin standards – fans were hugely disillusioned. And Vautin could conjure no more miracles.
"We'd picked Stuart Kelly from Parramatta in the centres and Paul McGregor gave him an absolute bath. Ten minutes in we were 14-nil down, they'd run in three tries. And I'm sitting in the stands with 'Choppy' [manager Chris Close] and he's bellowing into my ear: 'Get him off! Get him off!' And I thought about it, and I said, 'No. I won't. It would ruin him forever. I'm going to leave him on and he'll live and learn, and become a better player'," Vautin said.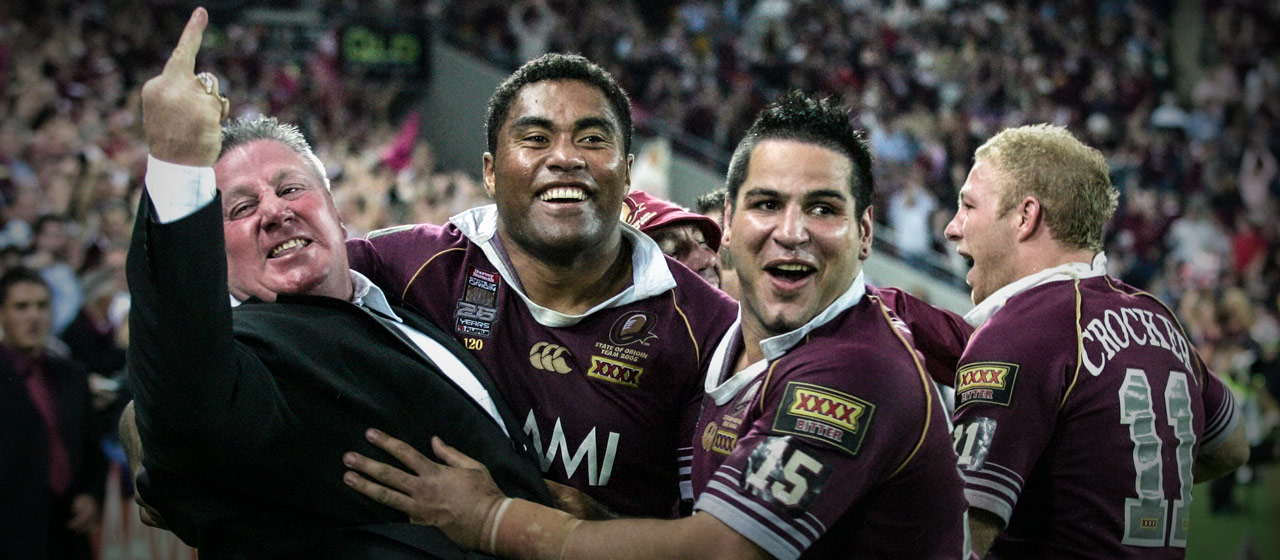 The Maroons clawed back to 14-all before Blues utility John Simon landed a long-range field goal. With one minute to go, seven metres inside Blues territory, Queensland won a penalty. A goal would win it. They had two kickers – main man Julian O'Neill; and Wayne Bartrim who had the stronger leg. Vautin sent a message out for Bartrim to take the kick. But by the time it reached ground level O'Neill had the placed the ball and was walking back to his mark. His kick fell one metre short. The series was the Blues'.
Following the third match, a gutsy 18-12 win to Queensland, Vautin was approached in the sheds by Queensland Rugby League director Kevin Brash, who said: "I had my doubts about you as a coach but that team's effort tonight, with all the injuries and a one-man bench, was outstanding. Fantastic effort. And I'm telling that you that you will be coaching this team next year."
A week later he was gone.
"When Kevin said that I was like, that's the death knell right there," Vautin said. "I was punted a week after."
While he appeared to take the sacking in his stride and he's philosophical about it today, Vautin was very keen to continue coaching the Maroons. "I really wanted to. I was desperate to. But I've got to say, I coached in a really, really difficult period in rugby league. It was so tumultuous. Super League, people stabbing each other in the back for money. It wasn't altogether a great time in the game.
"But I loved the coaching. I remember Billy Moore and Gary Larsen, we had a drink one night, they asked how come I wasn't coaching a club. But at that stage The Footy Show had just started, and I loved the media work. I told them that I'm a Manly man, no-one would give me a job. Though if ever the opportunity came up at Manly I'd have a look at it.
"But as the years went on, and I see what coaches go through, all the dedication they need, I definitely have no regrets. I had a good time doing it. But I'll never coach again," Vautin said.