Read Time:
6 Minute, 32 Second
In 2017 I took on one of the most challenging positions in Sydney rugby – President of Penrith Emus Rugby Club.
The season did not disappoint.
At every turn head coach Julian Huxley and I were challenged in ways neither of us thought possible.
And yet, though the record books show nil wins for our first-grade team, we did build a competitive squad.
After a flogging from Gordon in the first round, "Hux" built such momentum that we went down by a solitary try to eventual minor premiers Manly on their home patch.
(And if you ask any Emus supporter, the Marlins secured the win with a try from a kick in which the chaser had a two metre start on the ball. Them's the breaks!)
Yet the highlight of that season, for mine, was the absolute respect given to the eventual 2017 premiers, Warringah Rats, by everyone in club – nay, Australian, even world – rugby.
The Rats were a cut above every other club, on and off the field.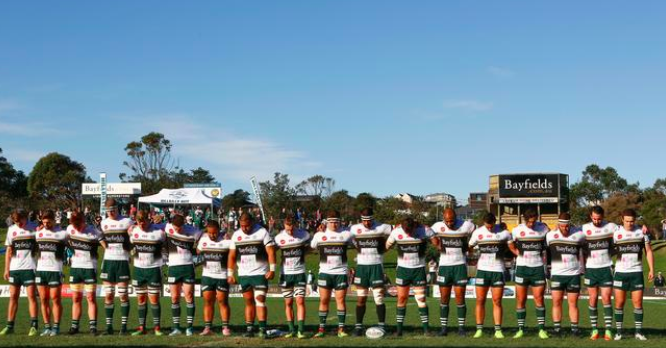 Warringah Rats line up prior to the Lachlan Ward Tribute match against Penrith Emus in 2017. Pic: Karen Watson.
If I were to walk a hundred metres outside my back door and 'Huck Finn' it down the Nepean, I'd end up on the Hawkesbury River and, eventually, the Pittwater, before the mighty waterway heads out to sea.
Doubtless my makeshift raft, alongside some of the motor yachts at Church Point would disclose where I had travelled from!
It's an analogy that describes the socio-economic gap between our two communities. And yet a unique bond exists between our clubs.
Penrith and Warringah have struggled at various times to survive in Sydney's premier rugby competition – more so Penrith than Warringah.
We've both been regarded as easy-beats.
I've heard it said many times by Warringah clubmen, that the tough times made their club what it is today. It's why they refuse to sit in judgement of clubs like Penrith – they know what it's like at the bottom.
Shortly after becoming President, I received a phone call from Chris Birch, perpetual Sydney Rugby Board member and Warringah stalwart who offered insight and support ahead of our season. Chris kept in touch all year and had genuine desire for our success.
I also formed a great relationship with Warringah President, Phil Parsons, who epitomises strong, quality leadership. He's also an all-round good bloke, and only ever a phone call away.
During a GM's meeting, attended on our behalf by Hux, Sydney Rugby advised that it was obligatory for each club to pay for two tables at the end of season Ken Catchpole Medal presentation.
It was the first time they had placed this demand on clubs. It meant 20 tickets at $100 each.
To some clubs in the competition, $2000 is not a lot of money. To the Emus it was a whack out of our budget for the year – boom! – a hit we didn't see coming.
Immediately on hearing the board's edict, without a blink, Parsons lent across to Hux – this in the meeting – and said, "We'll pay for Penrith's tickets".
Just like that.
Phil instantly understood the impact on us and without a moment's hesitation picked up the tab.
It wasn't about the money – we would have found it, even if it would've created pressure we didn't need.
But Phil's offer was a gesture of support. It was an 'I've got your back' moment.
It was pure class.
And our club will never forget it.

Warringah Rats players console one another during the Lachlan Ward tribute match against Penrith Emus in 2017. Pic: Karen Watson.
Tragically, for all Warringah's highs in 2017, an on-field tragedy occurred that was to leave their entire club, and the greater rugby community, devastated – the passing of 24-year-old Lachlan Ward during a 5th grade match at Pittwater Park on June 10.
Two weeks later Warringah played their first game since the tragedy – against the Emus at Rat Park. Our club saw it as an immense responsibility, and honour.
The passing of a young person is among the hardest thing any of us have to come to terms with. It's a universal unjust.
In preparation we held a special club meeting to ensure everyone was on the same page regarding the significance of the day to the Ward family and to the Rats.
We almost needn't have bothered. Several of our players got together after the meeting and said a prayer, seeking guidance.
There was never any question about the absolute respect and humility we as a club had for the day ahead.
Yet none of us, except perhaps Hux, had a personal connection with Lachlan or the Ward family. So we felt it incumbent on us to be present for the day but to remain in the background, to ensure the Rats community could mourn Lach's passing and celebrate his life.
Yet even under the grief and pressure of the day, the Rats made us feel extremely welcome, as part of their wider rugby family.
There was a beautiful, moving and memorable tribute to Lachlan before the first-grade game, before we went down against a very emotional and determined Rats team. It was a fitting outcome for the occasion.
Up to that point I believed we as a club had done our job on such a solemn day. We'd remained in the background, respectful, doing our best.
Then our players paid their own tribute.
Immediately following the match – the Emus players, most of whom were Pacific Islanders, kneeled in the centre of the field, and commenced to sing.
The entire ground was silenced as the harmony of a tribute song for Lachlan reverberated across the ground.
I didn't understand what the words meant – didn't need to. It was clearly a song of deep respect and honour.
Above all it was beautiful.
I get teary even now thinking about those voices drifting across the ground and upwards to Hillbilly Hill. It was spontaneous, it made the hair stand up on the back of your neck.
It was magnificent.
And as the Emus President I couldn't have been prouder of these young men who got it so right.
The post-match function in the bar under the Rats grandstand felt a great wake – the pressure valve had been released and everyone joined together in the spirit of the day. We were all able to let our hair down on what was a tough, however memorable day.
To see some of our boys from Mount Druitt arm in arm around the bar with those from Newport, united in the success of a tribute day for Lachlan and the Ward family … I'll never forget it.
You felt privileged to be part of it.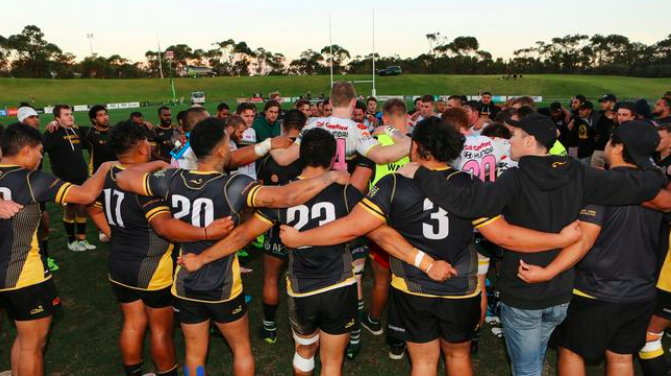 Circle of Love: Penrith Emus gather around the Warringah Rats and sing a song of tribute for Lachlan Ward. Pic: Karen Watson.
The Rats went onto win the premiership that year while Penrith were axed from the Shute Shield six months later.
Not sure what that says about Karma!
Yet it surprised no-one at our club that Penrith's chance to re-enter the competition stemmed from the leadership of Sydney Rugby Union President – and Warringah Rats man – Phil Parsons.
It further showcases the class of the Warringah Rats. Just as we were made to feel welcome in the celebration of Lachlan's life – and I was so proud of our club for the heartfelt respect and humility shown by our players and supporters – our rugby family on the northern beaches had our back. Again.
Go the Rats. Go the Emus.
Long live rugby.