Read Time:
5 Minute, 54 Second
On the last Saturday of August in 1997 I went to Old Trafford to see Man U.
Yes, Manchester United, who played Coventry City in an English Premier League fixture, the first one I'd seen live. And it was very cool in a lot of ways. But two things stood out.
Firstly, the United fans did not appear happy. Their attitude seemed more fear of defeat than enjoyment of the play of their all-star, champion team.
And though Andy Cole scored in the second minute and the great Roy Keane in the 72nd minute, it wasn't until Czech international Karel Poborský iced it at at the end that the United fans, by and large, relaxed and had fun.
Not me. I was wide-eyed from the get-go. Coventry striker Dion Dublin ripped off a bicycle kick that hit the crossbar, and I shot out my seat involuntarily and went "Oh!" And nearby United fans looked and wondered if I was a ring-in for the other mob.
Football fandom is an odd bird.
The other thing I took was the speed of it.
You see big time football on the television, it's impressive. See it live it's unbelievable. The skill at speed, the physicality, the thundering shots from downtown; it's big. It's fast. I loved it.
And largely because of one man: Ryan Giggs.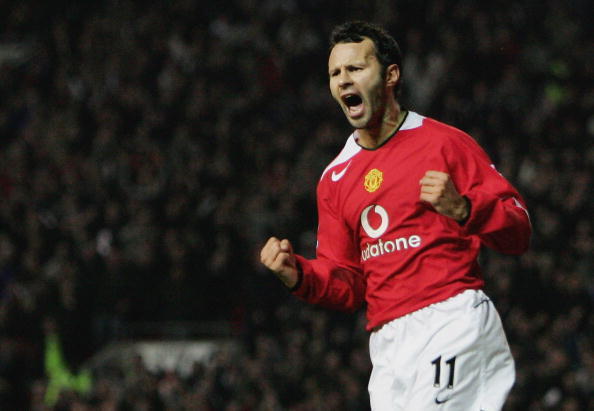 First half I was sat on his left side, maybe ten rows back, close enough to throw a sausage roll at him. And I couldn't get over his control of the ball at speed. He was so quick, nippy, jinky, tricky; and the ball seemed attached to his flying feet. He made Coventry look like mules.
The next day I woke to the news that Princess Diana had died in a car accident, a fact that rather dominated the news cycle thereafter.
But I never forgot my first EPL game and the genius fast feet of Ryan Giggs.

We're a long way from Old Trafford at Cromer Park on Wednesday night watching another Man U – local boys Manly United FC – take on Sydney Olympic in Round 7 of the FFA Cup.
It's chilly and still with light rain dappling the grandstand roof. The football afield is quick, physical and skilled across the tight synthetic track.
And, as I was that day now twenty-four goddam years ago, I'm impressed (if not awed) by the skills and speed of the game. And of one Man U left-wing in particular: Dejan Pandurevic.
The Curl Curl Kid makes a scything run down his flank, beats three defenders and bursts into Olympic's top third. He's in headgear after a cut a few games ago. He seems a man most likely. And we will talk more of him.
For now we'll begin in the 14th minute of the fixture to decide who'll enter the FFA Cup Round of 32 and Jimmy Oates has brought down an attacker. We look to the referee and … can it be? it is! Red card!
Outside looking in it's a tough call on a "professional" foul. Inside looking in it appears outrageous, as the long minutes of referee remonstration attest. But those red cards don't change colour. And off schleps our man Oates.
Injury is added to insult when Michael Glassock scores from the free kick. One-nil Olympic.

The football is willing, direct and physical. Passion and tempers are up. There are as many fouls as calls to play on. And though the referee appears let some fouls slide, he is not popular with either team's supporters, of whom there may be one thousand.
Olympic scores again on the 30-minute mark and the first of the famous "OH-LYM-PIC!" chants go up, twice, and no more.
Veteran Richie Cardoza is substituted and lets United coach Adam Griffith know how feels via expressive, dark, Mexican Bandido eyebrows. The half-time whistle pierces the still night air and Griffith makes a bee-line for the referee, gesticulating, gesturing, making plaintive motions to the scene that reduced his XI to X. You wonder if it's allowed.
Second half and Japanese marksman Seiya Kambayashi is a threat on the left. There's a foul and Griffith and assistant coach Dylan McCallister make gestures to Olympic's coach Ante Juric. Not sure for what. Ante gets the message, however.
Griffith rings more changes. Three new attackers. Olympic counters with two more giants in the defensive line. Plenty time to go. But it's going to be tough for 10-man Manly to breach a team that's turned a back four into a back seven and then eight.
Olympic will concede six yellow cards to United's none. But that one red one matters most.

And thus we settle into see Manly United bombing away and Olympic playing off the back of counter.
Jordan Devries, the hero of Saturday's 92nd minute 2-1 win over APIA Leichhardt comes on. Olympic counters with more defence. There is more rain. Olympic counters, hits the posts. The clock steadily ticks to 90.
United go left for Kambayashi. But mainly they go to Pandurevic: man most likely.
Now, I am no Phillip Moss nor Andrew Paschalidis. But any long-time sports fan can see class. And Pandurevic, with every touch, looks really good. Potent.
In one of his moves he takes on his man, turns his back on him, is mugged by another guy, taps the ball four times with either foot then darts infield into space. It draws gasps and then applause. He is very good. Yet you wonder how very good a man has to be to crack an A-League team. He was signed six years ago by Central Coast Mariners but didn't play a game. He's only 24. Got to be on radars.

Alas for the man and for this poor man's Man U, they cannot break the Olympic back nine. The ref's shrill whistle pierces the night air again and Sydney Olympic win 2-0 and advance to the round of 32 in the FFA Cup.
Manly, however, is far from disgraced. They didn't give up and were the only team having a crack. There were several gasps for near-misses. And they were stiffed by the send-off.
And we think again: odd bird, fandom.
Ryan Giggs could tell you that.